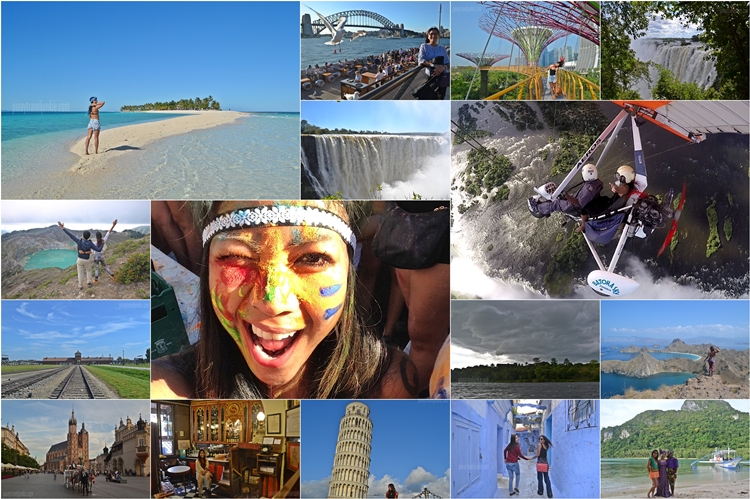 A year since settling down (yah know, the "for real" one), and I actually have not settled — in its truest sense.
What I realised this year is perhaps I never will. And it's okay to never settle.
Here's 16 of my fave snaps of 2016, compiled while half cut. Because New Year's Eve.
1. Sinulog Partyin', Cebu, Philippines
Lemme start off with this Sinulog selfie. Finally had the courage to brave the crowds and the possibility of having an anxiety attack.
2. Kalanggaman Island, Leyte, Philippines
Post-Sinulog camping trip with blogger friends Marky of Nomadic Experiences, Edgar of Eazy Traveler and NFF RJ. They're still harassing me for our GoPro snaps. LELZ.
3. Sydney, Australia
Brought me mum to Australia for the first time. Photo was taken a second before that bird shat near my foot.
4. Gardens By The Bay, Singapore
When in doubt flip, your hair (Okay, I might have gone overboard). Quick Singapore jaunt to see me sistah before heading to Africa.
5. Victoria Falls, Zambia
Slashed off the bucketlist. Just. Grandiose.
6. Victoria Falls, Zimbabwe
A huge portion of the Victoria Falls is in Zimbabwean territory, and we just had to cross the border (on foot via Victoria Falls Bridge) to see the other part.
7. High above Victoria Falls, Zambia and Zimbabwe
Got Amazing Race 27 to blame for this. In one of the roadblocks, a member from each team had to ride a microlight plane and fly above Victoria Falls to find the route marker on Knife's Edge Bridge shrouded by mist.
8. Somewhere along the Nile River, Uganda
River safari on the Nile River. Narrowly escaped this storm. Got to our accommodation Paraa Safari Lodge (those structures in the photo) right on time.
9. Kelimutu Volcano, Indonesia
Fellow volcano enthusiast Edgar and I finally hiked up one of our dream volcanoes. We stayed up there for five hours.
10. Padar Island, Komodo National Park, Indonesia
Almost booked a private boat (3.3M rupiah for two) because Edgar and I couldn't find a 2-day tour that includes Padar Island. Luckily, we found a 1-day tour for 600,000 rupiah each (shared the boat with two other people) after visiting every tour operator office in Labuan Bajo. This photo was taken a month after my trip with Edgar, when I joined Trip Of Wonders, organised by Indonesia's Ministry Of Tourism.
11. Auschwitz and Birkenau Museum (Concentration Camp), Poland
There are no words. Just anguished heaved breaths.
12. Krakow, Poland
Was toured around by a Polish couple who I met briefly in Sri Lanka, we couchsurfed the same house in Colombo. So lovely to keep in touch with people from all over the world!
13. Leaning Tower, Pisa, Italy
After dumping my luggage in the hostel, I literally ran to The Leaning Tower of Pisa (a 30 minute stroll from Hostel Pisa) before access to the tower shuts. I made it!
14. Botin Restaurant, Madrid, Spain
Wasn't able to join a free walking tour cause I only had 24 hours in Madrid, but browsed the walking tour's itinerary and learned about the oldest restaurant in the world (according to Guiness World Book of Records). It was just around the corner from my hostel. Tagged a hostelmate along cause Sangria happiness is real when shared.
15. Chefchaouen, Morocco
Second visit to my second fave country. This time with travel buddy Ron of Flip Travels and the sistah.
16. El Nido, Palawan, Philippines
Might come as a surprise, but this was my first El Nido visit. And it had to be for a special occasion: Reiza of Wander If You Must's wedding marathon (in case you're wondering about the dress, she married a fellow amazeballs aid worker from Kenya.
There you have it folks! Plans for 2017? Slowing down and doing things that give back. Happy NY, y'all.