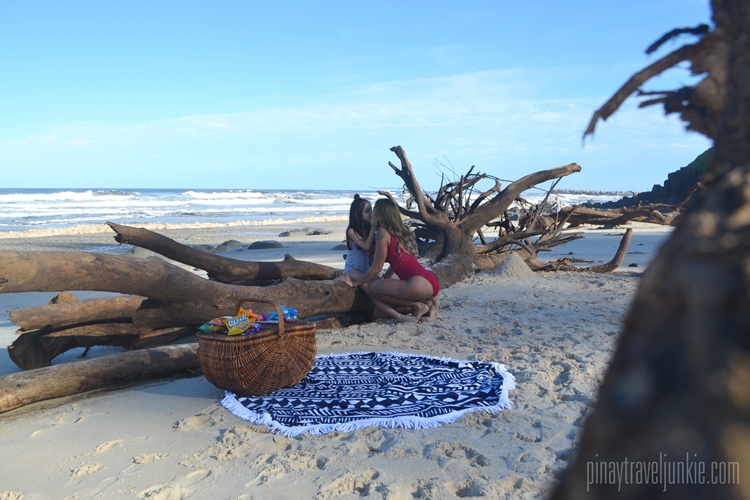 Rare sunny day, post ex-cyclone period in far northeast New South Wales, Australia.
We snatched our bathers from the floordrobe and dumped our picnic basket with our fave reads and nibbles and rushed out, under the glorious rays of the autumn arvo sun. Three-minute drive plus a minute stroll on the beach later… We traveled through the USA, Mexico, and Israel — at least, our taste buds did.
"What the heck did I miss?" you ask.
Our snacks played as portkeys to these countries. Earlier this year, Word Bites sent us their World Bites Classic box which contains 10(to 11 depending on the items) snacks from different countries. Snacks (some of) which you won't find in Philippine supermarkets, even in those that offer a good range of imported products. We've gobbled the other products during that trip: the Sour Patch Kids (from Canada) which became Luna's fave, Eiffel Bonbons Apple (from France), and Milka Oreo (from Germany), to name a few.
And for this picnic, we nibbled the rest: Herr's Jalapeno Poppers Flavored Cheese Curls (from USA), Barcel Takis Fuego – claimed by many to be the hottest chips on earth (from Mexico), wheat snack Osem Bissli Falafel (from Israel) and a familiar face, a Land Down Under local, Violet Crumble.
Some of World Bites' offers.
It was fun opening every pack while telling Luna stories about our travels in the countries where the snacks come from. Each World Bites pakage has an attached info sheet, describing each item in the box. I'd point out the flag of each country to Luna and challenged her to memorise them. A challenge she cheerfully accepted.
Get a taste of travel in your own homes too (it's also a perfect gift for a fellow travel junkie)! Choose among their products or opt for the subscription box (carefully curated mystery boxes) — items will come out cheaper if you subscribe. There's so much variety in tastes (sweet, salty and fiery) and textures I'm sure there's one for everybody!
Go on a snacking adventure each month! How to sign up for a subscription box.
Or… Join our giveaway! Up for grabs is a World Box Mini (contains 5-6 snacks). All you need to do is to follow World Bites and Pinay Travel Junkie's social media accounts. Easy, breezy.
a Rafflecopter giveaway
May the odds be ever in your favor.