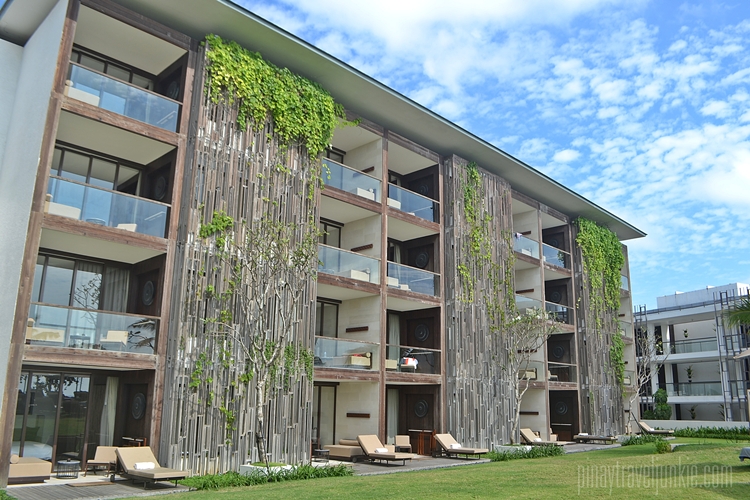 On a sizzlin' Saturday, early arvo, the dog-tired motley crew of Trip Of Wonders flooded the lobby of Alila Seminyak whilst I hogged a groovy Kombi parked at the driveway. "Wow look at that view.", the ladies chorused, heads turned towards the water. "Quick Potpot, picture!," I almost dragged Travel Trilogy to the vintage VW van in the opposite direction.
Ask at the reception regarding the Kombi tours.
A hundred clicks after, we were late for the congregation of dropped jaws. I too gaped as I stepped into its interiors: Sky-high ceilings. Vast, open-plan foyer with the Indian Ocean as its backdrop. Burnt umber wooden wall panels and green foliage that outlined the space.
I sniffed the sea breeze that wafted past. Oh Alila, you tease!
Vertical gardens adorn the hotel's outer walls.
Our twelve-day journey (which took us from Jakarta to Bandung to Jogja to Lombok to Labuan Bajo and finally to Bali) was to conclude here, and I won't be around until the last farewell smooches. Back home in Australia, my offspring was chasing flying bubbles and stomping on playground mud with two of her closest friends. It was her birthday. Reason why I was to fly out that midnight. Before everyone else. Ergo: I could only get a taste of Alila.
Penthouse's infinity pool.
I must have buried my face (I was resolute in wiping away all them dirt collected since Labuan Bajo that morn) in the cold towelette — I fished out of a silver tray held by a staff who bore a bashful smile — too darn long that when I took it off, I lost sight of all participants. "They went to the penthouse.", one of the organizers said. I approached the front desk and asked for directions.
"I'll take you there.", one of them offered. It seemed out of the way for her, but I acquiesced.
View of the common infinity pool from the infinity pool of the penthouse.
Alila Hotels And Resorts' "Surprise"
Alila, which means "surprise" in Sanskrit, is so aptly named. Alila Hotels and Resorts provides a fresh concept of luxury: a concoction of artisanal living, experiential travel, and an ethos of sustainability. Its properties (in China, India, Oman and Indonesia) are set in locations that are either of cultural appeal or of breathtaking natural beauty — mostly both.
Walk on water.
Alila Seminyak sits on the fringe of one of Bali's most famous beach resort areas, composed of a number of eco-friendly structures covering immense grounds. I only realized its enormity when the staff and I passed through a number of hallways, moving from one building to another. It would have been impossible for me to find the penthouse myself.
One of the penthouse's bathrooms.
Alila Seminyak's Penthouse is a stunner. I have not seen many penthouses in my life, but theirs looked pretty grand to me. It contains three bedrooms, a spacious furnished sun deck furnished, and its own infinity pool that commands a view of the hotel property and the beach. An infinity pool that overlooks an infinity pool. Now ain't that something?
Penthouse's master bedroom.
Alila Seminyak Deluxe Room
The Rooms Division Manager who was conducting the property tour ushered us to the common facilities after. At that point everything was a blur. And to be honest, a little heartbreaking to take in. The property tour was actually a what-Gay-won't-be-able-to-experience tour: The other infinity pools which I won't be able to dip in. Pura Dalem Segara (an old Hindu temple — built way earlier than the hotel — at the heart of the compound) which I could only quickly take a picture of, the beach bar where I won't be able to order a drink or two or three, the beach restaurant that features a band (late arvos) I won't be able to watch.
I was kicking myself because it was my request to leave the soonest. Well, I could miss my daughter's second birthday celebration but then I'd kick myself too if I did so.
Couldn't resist.
What I could do, at least, was to savour my deluxe room. With the one hour I had left before the pre-dinner cocktails.
My room on the main building's third floor doesn't have an ocean view. The balcony overlooks a line of trees, still a pleasant sight. The design is minimalist, with few Balinese embellishments here and there. And the colour palette matched that of the rest of the hotel's interiors. I got a lounge area with two comfy couches. And there's a mini bar and a Nespresso machine.
The bed I never got to sleep on.
The ensuite was my fave part. When sealed with the (almost) floor-to-ceiling sliding wooden door, one will never guess what's behind it for it looks like it's just part of the wall. And when not closed, it feels as though the room's got an open layout as well. I filled the tub with hot water and sprinkled bath salts straight away. I needed a luxurious bath more than a nap on a luxurious bed. Fifteen minutes before the pre-dinner cocktails, I plunged in. It was one of the most glorious fifteen-minute moments in the entire trip.
Alila Seminyak Pre-Dinner Cocktails And Trip Of Wonders Farewell Dinner
I joined the rest just before sundown at the beach restaurant. If you have never been to Bali, one thing you should know… The western side of the island offers some of the best sunsets in the planet. I've witnessed so many sunsets all over the world, and Bali's still belong to the top ones.
Cradling a glass of Alila's signature cocktail in one hand, the Spicy Cha Margarita, I hopped from one table to another. Professing my love to/canoodling each participant and murmuring my g'byes as the sun disappeared in the horizon. This continued until the Trip Of Wonders Farewell Dinner which was held in one of the function rooms. The dinner included a short program that officially concluded the tour. The dinner ended with concealed tears.
The hotel wraps around this Hindu temple.
"Our goal is to send our guests home with spiritual and emotional memories, not just souvenirs.", Mark Edleson, President.
I read somewhere.
And heck yeah, I collected a bloody whole lot of emotional memories at Alila Seminyak alone in just ten hours.
Alila Seminyak
Jl. Taman Ganesha No.9
Kerobokan, Kuta Utara
Kabupaten Badung, Bali