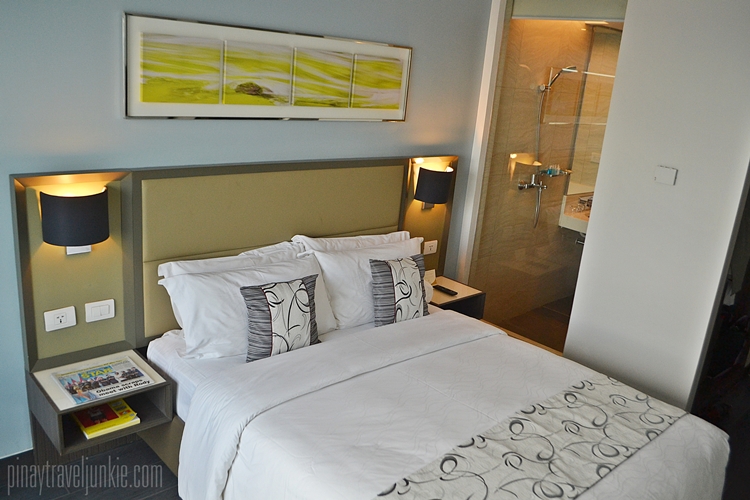 Off a delayed flight from Australia and out of the arrivals hall, I stepped into familiar smell and familiar heat. I was surrounded by familiar noise.
Manila may be hectic and chaotic, but I terribly missed it. It's home. I'd visit any chance I get, even if it's just a 20-hour layover.
And this was exactly what happened about three weeks ago. Prior my Trip Of Wonders trip (organized by the Ministry of Tourism of Indonesia), I had less than a full day in Manila before an early morn flight to Kuala Lumpur.
I stomped through a pack of cab drivers searching for gullible preys and towards the desk for airport pick up by different hotels. There, I saw the guy holding the sign saying Belmont Hotel and I identified myself. He towed my luggage for me and led the way outside. He asked me about my flight whilst at it.
"Oh, Australia. Ma'm are you pure Filipino?"
"Yes."
"Cause your last name is Emami…"
"That's a Persian name. My husband's Persian."
His curiosity and attention to unnoticeable things was a surprise. A pleasant surprise and an amusing welcome. He handed me and my luggage over to my driver and bade farewell.
Belmont Hotel Manila is literally just across NAIA Terminal 3. The ride took only a few minutes. Upon arrival, a bell man promptly fished my luggage out of the boot. As I entered the lobby (spacious enough to accommodate several big groups at once), I received two greetings:
"Hi ma'm, good afternoon. Welcome to Belmont Hotel."
and…
"Bakit delayed ang flight? Kanina pa ako dito, mga 10." (Why is the flight delayed? I've been waiting since ten.)
One exhibiting Filipino hospitality, the latter exhibiting my mum's.
And yes she was there since ten in the morn because she left her hometown two hours north of Manila early. Too early. Too much traffic, she reasoned.
With just twenty hours in my hand, it's obviously not enough to visit the province so my mum did the trip to Manila instead (I also thought it would be nice to let her stay in a hotel again). And because I didn't want to my precious time in traffic, I chose to stay in Newport City. That's why I chose to stay in Belmont Hotel Manila.
Belmont Hotel Manila is a 4-star hotel with 480 rooms and is sitting within the entertainment complex of Resorts World Manila.
Our check in was swift, we were in our room in no time. The room and bathroom were spic and span when we arrived. Our superior room (facing NAIA terminal 3) had the following room amenities:
32 flat screen telly
Coffee and tea making facilities
WiFi access
Personal fridge (and some minibar items)
Safety deposit box
Bathrobe an slippers
Toiletries
Work desk
Hotel Amenities
360-degree panoramic view rooftop outdoor swimming pool with massage deck
Outdoor jacuzzi
Fitness center
Sauna and steam room
In-room massage service
Parking
The room's color palette, a hint of yellow green with tans and whites, gives it a calm vibe. Something a business traveler would crave for when coming home from work. And something a transient like me would prefer when coming from a long haul flight.
My mum and I jumped in the bed straight away. We loved the bed, just the right firmness for us.
The bathroom though (a portion of the wall is made of transparent glass) a little too cheeky for mum. I explained how it helps in making the space seem bigger than it is. Though she realized how it makes sense, it didn't stop her from worrying about me seeing her do her business.
Uhm, like I'm interested.
Late arvo, we whiled some time at the rooftop which offered 360-degree view of the city. There's a bar in one corner where guests can buy drinks while lounging by the pool. During the time we were there, we witnessed a staff rescue a child who appeared to be drowning. Wasting no time — not even a millisecond, he got in the water fully clothed, and tugged the child to safety.
That. Was. Amazing.
In the evening, I met up with friends at Resorts, where a multitude of restaurants can be found. If you wish to stay in for dinner, Cafe Belmont (adjacent to the lobby) offers a wide array of dishes. They offer specials each month (Central Luzon Fiesta Buffet in September), so inquire what's on. Or if you're feeling really lazy to leave the comforts of your room, ask for room service.
Speaking of room service, because we had to leave at 5:00AM the next day (and will miss the buffet breakie included in room rate, they offered to deliver our packed breakfast in the room before we check out.
With limited time in one's hands, Belmont Hotel is a smart choice for people doing a short transit in Manila. Not only is it a breeze to get to, the rooms are well-appointed, and the service is excellent — from the driver to the receptionist to the staff who mans the pool area. And everything you'd need can be found nearby.
It's not in the truest sense "luxurious" because it's not a five star hotel. But because of its price (it really is affordable luxury), and its purpose of being a just transit passenger accommodation, I dare call it luxe. The overall experience was luxe.
Belmont Hotel Manila
Newport Boulevard Newport City
Pasay, Metro Manila
www.belmonthotelmanila.com