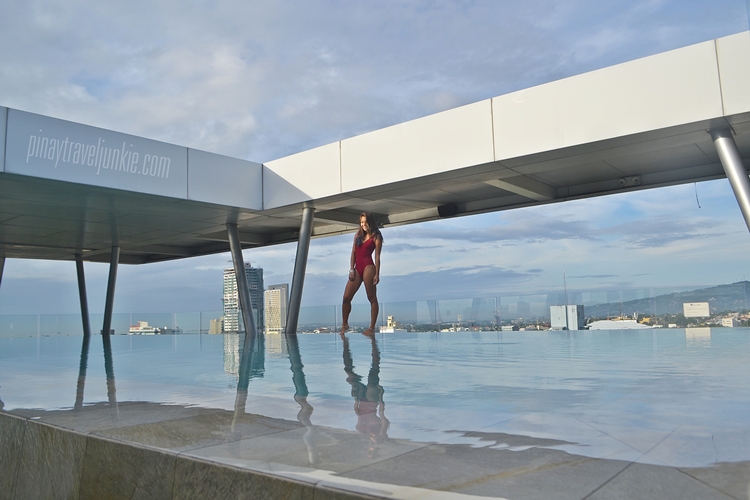 Three days past my bedtime and insufficiently caffeinated. I hazily dragged my feet across Best Western Plus Lex Cebu's lobby, towards the front desk. A couple hours prior, I had just touched down The Queen City of South, and been struggling to stay awake since. While the receptionist breezily processed the check in, my heavy eyes roamed around the well-lit (thanks to the glass walls) interiors. As with other Best Western hotels, the palette they played with was of neutral/earth shades. Pleasing to the tired eyes. The lobby's generous-sized with sufficient seating space. The ceiling, two floors-high and with suspended decor (a bit of a color pop) — which, if only my six year-old Luna was there, would be called pool noodles.
I chuckled at the thought.
Best Western Lex Cebu's lobby. Photo from its website.
Under five minutes, check in was accomplished and I headed up to my Superior Room.
Bestern Lex Plus Lex Cebu has 86 rooms: 57 Superior rooms (25sqm), 14 Business Class rooms (42 sqm), 10 Deluxe rooms (45 sqm), 1 Plus Suite and 4 Premier Suites. Yes, it's quite a big structure. Bed configuration for Superior and Business class and Suites, either a king or twin beds. Business class has a king.
Amenities:
32″ LED TV
Complimentary (and really good!) WiFi
Safety Deposit Box
Alarm Clock / Radio / iPod Dock
Hairdryer, Mini Bar Set-up, Digital Weighing Scale
Coffee and Tea making facility,
Working Desk with Lamp
Voice Mail, Free 30 mins. local calls
Rain Shower & Tele Shower, Bidet
Dental Kit, Shampoo, Bath Gel, Soap
Shower Cap, Lotion

Room's got the same classy-neutral shade going on and is sporting a contemporary style. It's decent sized, and carpeted — just how I like it. The bed, colossal enough for the starfish sleeper me (and could accommodate another starfish sleeper alongside). The city view from my room — depending on your standards — may not be outstanding, but a view's a view and I was simply thankful it's not a view of a neighbouring building's wall.
The bathroom was spotless. A side of its wall, fronting the bed, is a glass panel. With a frosted, geometric pattern design which partially conceals your naked self inside.
After a quick survey of the room, I jumped in the bed and finally got my much needed snooze. That evening, I stepped out of the hotel only for dinner, and retreated back to my cave straight after.
It was the next day that I wandered atop the hotel's roof deck where the fitness gym and infinity pool prettily sit. With my body clock still set to GMT+10, I was there at six odd. Besides the lone staff, there was only one oter early bird up there at the time. A guest on the treadmill who — judging by his soaking shirt — had been at it for a while.
The well-quipped gym's got glass walls as well, which gives great views of the city and uhm, the infinity pool. The pool's got a considerable lap. And is on higher ground which gives it a feel of being in a different space, apart from the roofdeck bar.
I ordered a latte from the bar and did a tiny bit of work. Now that made me feel as though I really was in Cebu for business and pleasure.

Lone pool guest.
Left after an hour, and the roofdeck was still devoid of fellow souls. Few minutes of quick change in the room and I was soon downstairs where it's frenetic. So that's where everybody was. The breakie included in the room rate is served at their resident resto, Kai. The seating capacity can't handle the number of guests eating at the same time so tables and chairs poured out to the lobby.
The choices are quite varied and fresh (there was an entirely different spread the next day). But I mainly stacked my plate with Filipino fare because that's what this balikbayan was craving for. And well, bacon.
Service was warm and prompt. And that chef at the omelette station's one of the smiliest I've met.
OMG bacon and dilis. This is MY section!
I was also able to sample Kai's lunch/dinner offerings on their menu later that day over a meeting with Best Western Lex Plus Cebu's Sales and Marketing Team — who sat with me to acquaint me with the hotel chain further. The menu's also a mix of local, international and fusion dishes. While everything I tried was tasty, I mainly chomped on the nachos. Seriously it was really good.
Back at Kai for lunch.
Best Western Lex Plus Cebu was, in all honesty, a pleasant surprise. Sure it's Best Western, sure it's a 4-star business hotel. But the rockin' roof deck bar (I shall return to hang out at night time), the infinity pool with a view, the cheeky ensuite bath glass panel, its winner location, and all the other tiny details… Give it a huge plus.
They got that name right.