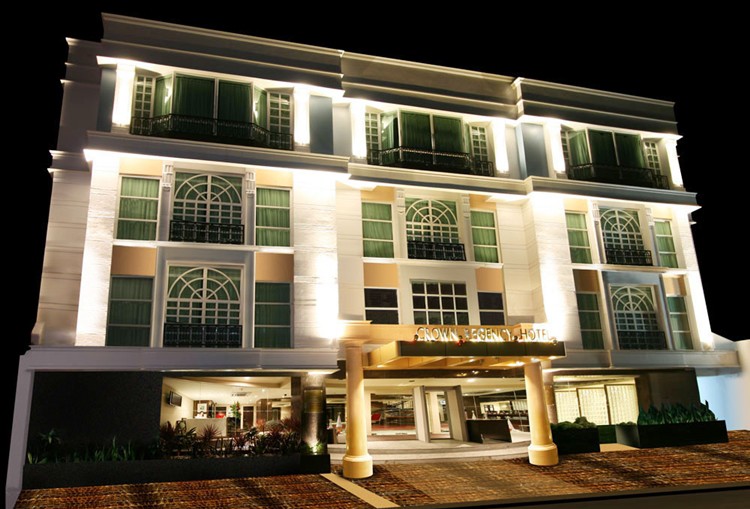 The silent, deserted lobby of Crown Regency Plaza Hotel Makati was a refuge. We had just come from a battle with the traffic congestion just outside Ninoy Aquino International Airport Terminal 3 at an ungodly hour. Like, 2:00 AM ungodly. Our little travel tribe (plus my mum who picked us up from the airport in a cab) was worn out from an eight-hour intercontinental flight from Sydney, and the heat was sucking whatever was left of our energy in our chakras. We dumped our luggage in front of the reception as a front desk staff emerged from the back office.
"Good evening ma'm. Sir.", she greeted.
We replied with weary nods and even a wearier smiles.
Sensing our exhaustion, she made the check in process as brief as she could. After giving us the last (and most important) bit of info — the WiFi log in details — she bade 'goodnight' and then we were off to our Superior room on the second floor.
Crown Regency Hotel Makati has three kinds of rooms. Superior, Deluxe and Corner Suite.
Each has the following amenities:
21-inch telly
Posturepedic bed/s
Safet deposit box
Coffee and tea maker
Air-conditioning
Toiletries
Deluxe Room. Photo courtesy of Crown Regency Plaza Hotel Makati.
Our 6 year-old Luna jumped in the bed straight away. She literally dove.
The room is of contemporary design and got two single beds. Everything's spick and span. The floor space, just right. It was enough, not just for two people, but for three and a half (mum stayed with us cause I didn't like the idea of her going home by herself that late). It has a window that faces the front street. Although the beds looked inviting, I stayed up a little longer just to eat food which my mum brought all the way from our province, three-hour drive north of Manila. We may be billeted some place else, but gorging on my mum's cooking certainly made me feel I've come home.
Corner Suite. Photo courtesy of Crown Regency Plaza Hotel Makati.
I hit the sack at almost four, and was awakened by my mum — barely two hours after — noisily rummaging through her stuff. I got the message. And I let her annoy the two as well because we only had four precious hours left to spend together before we fly again.
Crown Regency Hotel Makati's room rates include breakfast. Although still stuffed from the wee-hour err snack, I went down for breakie. The cafe/restaurant (which has a slight 50s American diner feel) is on the ground floor, adjacent to the lobby. It seemed a little cramped, but it never got full whilst we were there. We sat on a booth and a waiter swiftly attended to our coffee and tea.
For a small business hotel, the selection was more than expected. About four hot dishes were laid on the island counter plus soup. The breads were placed beside the omellette station. And there were fruits and juices. We loved the omelette, moist and fluffy and a perfect accompaniment to the Filipino bistek (beef steak) which I had not eaten for ages. We went back for seconds and thirds. Our daughter stuffed her face with heaps of hotdogs, something we don't let her eat often.
After breakie, we headed back to our room and started packing. Crown Regency Hotel may be in Makati, but it's (relatively — depending on traffic) a quick drive from all of Manila's airport terminals. It's also in the heart of Makati CBD. The malls are just an easy breezy stroll away. It's a shame we didn't get to make use of its winner location for going out, but it served its purpose well being our layover abode.
For its price, about US $70 for a standard room, I say it's bang for the buck. The location and the friendly service alone are worth paying this amount. I reckon we may have found our Makati HQ, and yes, that means we're definitely coming back again.
Crown Regency Hotel
1026 Arnaiz Ave,
Makati, Philippines
www.crownregency.com