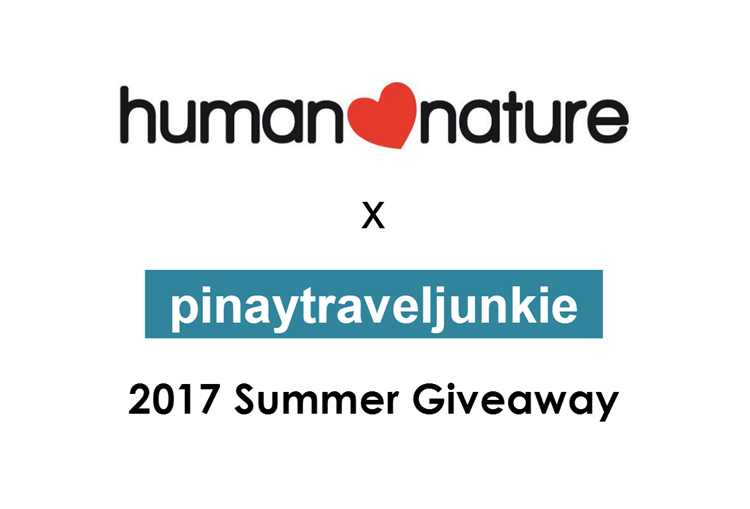 Summer is upon us!
And this 2017… Human Nature, along with Pinay Travel Junkie, is giving away P3,000 worth of Human Nature products and a free trip for 2 to Coco Beach Resort in Puerto Galera! If you've been living under a rock coated with parabens and sulfates and haven't heard of Human Nature, here's some brief info about their products:
Human Nature is the first and only Philippine home and personal care brand that is a member of the Natural Products Associationa (NPA). Now ain't that sumthin'?
So you're totally sold on this brand and can't wait to have a go on any of the products. Here's your chance to win P3,000 worth of goodies aaand as if that ain't enough, Human Nature is throwing in a free trip to Coco Beach Resort Puerto Galera where you get to use 'em products!
Mechanics
With over 7,600 islands to choose from, there is bound to be an ideal summer destination in the Philippines for you! As we enjoy Mother Nature's gifts this summer, it's also our responsibility to ensure that future generations can enjoy it too. Can't wait to hear about your fave summer destination and what you can do to help preserve its beauty.
Other deets:
1. This giveaway is open to Philippine residents only.
2. Participants can submit multiple entries, given that they followed the mechanics accordingly (e.g. use of hashtags, original photos only, etc.)
3. If a participant tags or uses the hashtag of more than one influencer, the first hashtag s/he used will be considered as the valid one.
4. Participants can submit their entries from March 20, 2017 to April 21, 2017.
5. Announcement of winners will be on April 26, 2017.
6. Human Nature will ship the prizes (products) to the winners. The free 2 days, 1 night trip to Coco Beach Island Resort is valid for the year 2017.
Sample Entries
What are you waiting for? Start posting… And may the odds be ever in your favour!