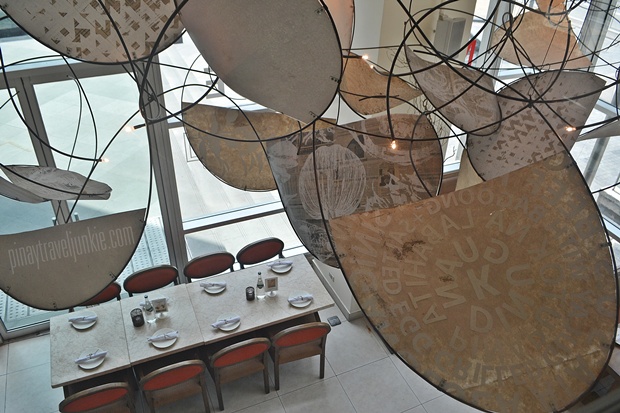 It was then time to move our heavy-from-brunch arses from Museum Cafe to the other half of its space, Kabila — a Tagalog word which means "(on the) other side". And this Filipino bistro, as literal as it can get, is on the other side of M Cafe. Both under the Raintree Restaurants' umbrella.
Kabila Filipino Bistro offers dishes from various parts of the Philippine archipelago, using top ingredients that are locally sourced. The servings, like in any Filipino home, are for sharing. And every meal is a delight to the eyes. Beautifully presented.
My guinumis at the center.
Our troop was again seated on a long table. The bistro's interiors, bright (thanks to the glass panel walls) yet cozy (with its decor in neutral shades), same as M Cafe's. Their staff, as warm as the tropical climate. A waitress took our drink orders and I made the mistake of ordering guinumis. Don't get me wrong, Kabila' guinumis is an amazeballs version (not too sweet which I like), it just filled me up right before the entrees came out.
Fresh Lumpia sa Kabila (P295)
Fresh Lumpia sa Kabila (P295). Fresh ubod, shrimp and pork mince, sweet garlic sauce, fresh garlic and peanuts. What a stunner. The flavors reminded me of the best lumpia I've ever had. My mum's. Inside the roll are contrasting textures. The leafy veggies, very fresh. And the sauce wasn't overpowering.
Ensaladang Kabila (P295)
Ensaladang Kabila (P295). Ripe mango, green mango, guapple, pomelo, turnip, native tomato relish, salted egg, pili nut croutons, calamansi vinaigrette and homemade bagoong. Bet you've never tossed all these goodies together in a salad, ei? Me neither. Our salad was missing ripe mango (not in season) and pili nut croutons though. It's a refreshing and no doubt healthy entree, great for vegetarians. But if I were to choose between this and the lumpia, will go for the lumpia. More value for the buck.
Seafood Guava Sinigang (P525).
Seafood Guava Sinigang (P525). Scallops, bangus belly, river prawns, clams, kangkong, labanos, sitaw and cherry tomatoes. My Kapampangan-Ilokano family loves anything sinigang sa bayabas but I have a feeling this may not capture their hearts. The guava taste is barely there, unlike how my family cooks guava sinigang. However, I reckon seafood is treated differently for their flavors are more subtle. A very flavourful broth would have overshadowed everything. The scallops were a little tough, but the other elements were cooked perfectly. All in all a good dish.
Kabila's Pork Bagnet (P395)
Kabila's Pork Bagnet (P395). Bagnet with sukang Iloko, sili rock salt and KBL kamatis, bagoong Balayan, lasunga relish. All that fat and crackling! In my stomach! Really, there's nothing much to say here. It's as good as it looks. Dip it in sukang Iloko then add a pinch of the sili rock salt just before putting in your mouth. Boom.
BBQ Chicken Inasal (P375).
BBQ Chicken Inasal (P375). Sinamak, chicken oil on a charcoal grill. Definitely more spruced than those from Bacolod's Manokan Country, served atop a stone grill. It's very tasty, the meat tender and the char marks gave a slight bitterness I look for in grilled chicken skin.
Slow-Grilled Gindara (P375).
Slow-Grilled Gindara (P375). With sweet soy calamansi glaze served with pickled green mango. Tender, and tasted fresh. Not exactly a standout, though if you're a pescetarian, this would be a great choice if the Seafood Guava Sinigang is too much for you. Between this and the BBQ Chicken Inasal which have the same price, will most likely order again the latter.
Leche Flan Turon (P195).
Leche Flan Turon (P195). Served with chocnut sauce. You read that right! I know, genius! The leche flan inside the roll ain't as sweet as you would expect, neither is the chocnut sauce. Warning, highly addictive. Save some space for this dessert. Better yet, order it first!
Buko Pandan (195)
Buko Pandan P195. With melon shreds, served in a coconut. This one's a beast! After a meal, I reckon four people can share this huge serving of buko pandan. Something for the sweet tooth.
Ended the gastronomic feast with a latte (and chocnut!). As full as I was, I badly needed the cup o' brew to stay awake. Oh you know us Pinoys and our bae, siesta. And with all that food partying in me tummy, I was being lulled to sleep.
Kabila Bistro Cafe is doing a stellar job of not only presenting Filipino food in a way that enhances its aesthetic appeal (rejoice Instagrammers!), but also of reinventing Filipino food without losing its authenticity. And more importantly, highlighting locally sourced ingredients.
This resto's a winner for me.
Kabila Filipino Bistro at Museum Cafe
Ayala Museum Complex
Makati Ave. corner Dela Rosa St.
Makati