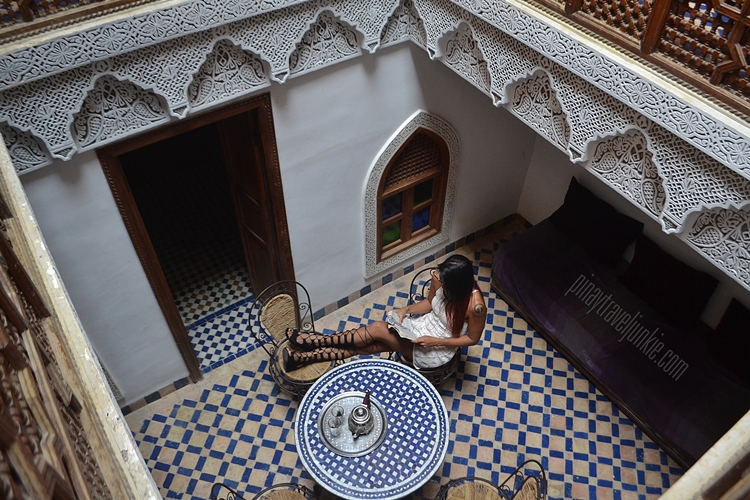 The call to prayer echoed through Fez's donkey dung-smelling alleys and towards the nearby hills. Booming as it was, the noise from the tumultuous crowd of campaigners (election in Morocco was to take place in a few days) three levels below was still very audible. We were on the rooftop of a dar we hired via Airbnb, sorting through the last morsels of our dinner cooked by the wife of the owner. We had just been there for a couple of nights yet it felt like it had been weeks. It felt like home.
Three countries earlier, I stepped on my 50th country. So I was feeling celebratory, and brought a bottle of sangria from Madrid to Fez to share with my sister and backpacking buddy Ron of Fliptravels.com. And there atop a 400 year-old dar, in between bites of braised chicken and plums, I randomly thought of my other favourite AirBnb lodgings all over the world (would be interesting to see how the list changes once I've reached a hundred countries — yes, I've set such goal too — in the distant future) and came up with the idea of putting them together on a list.
Here they are.
1. Sydney, Australia
.
Sleepless but overly excited, my mum was surprisingly looking forward to bunking in her first AirBnb accommodation. This apartment (we only hired one of the rooms) in Kirribilli, Sydney got a balcony which has a gorgeous view of the water. The building's rooftop, which all residents got access to, overlooks the Sydney Opera House and Sydney Harbour Bridge. It was only AU$100 at the time of our stay earlier this year, such a bargain!
2. Paris, France
That's Angel of lakwatsero.com taking a snap of the sunset over Paris. This stunning flat, with one room and a loft (both with queen beds), in the heart of Montmartre and along a public staircase, is sooo Instagram-worthy! Can be a pain to go up heaps of flights of stairs each time (imagine if you're lugging a fat, heavy suitcase), but the view for people-watching is tops. Something random: We found wigs in one of the cupboards and played dress up one wine-addled night. Wait, every night in Paris was wine-addled!
3. Barcelona, Spain
This one bedroom apartment is just a few minutes stroll from La Rambla (a street in central Barcelona popular to locals and tourists). The lounge has a sofa that can be turned into a double bed. The unit, which is also some flights of stairs up, served as a base for our wanderings in Barcelona. The owner gave us a list of the best tapas restaurants in town… Which we unfortunately didn't get to visit any.
4. Kingston, Jamaica
Best thing about this cute, tiny townhouse is its close proximity to jerk chicken joints and Chinese restaurants (hey, I needed the chicken to go with fried rice). Also, it iss a short cab ride away to Bob Marley Museum along Hope Road. Our host gave us the best introduction to the country. She encouraged us to eat the potentially poisonous ackee, but discouraged us to visit "the government yard in Trenchtown"… Which we still did, anyways, on our own. Hah!
5. San Salvador, El Salvador
"Don't go to El Salvador", a few concerned Guatemalans told us. So we uhm, went. Our planned two-night stay was extended to eight because we loved the family we stayed with. The 70+ year-old mum and the even older aunt of our host did not speak a single English word but we managed to communicate. They took care of me when I was food poisoned, buying medicines and preparing food for me. They also took us to the beach on a weekend — the mum drove us home after drinking one too many cervezas (she's a bigger drinker than us).
Also, one eve, we decided to take salsa classes in the club. They babysat our then 4 year-old Luna. We really felt like part of the family!
6. Willemstad, Curaçao
After staying in guesthouses, hostels and AirBnb rooms for almost a month, we fully appreciated this self-contained unit in a posh-ish Curaçaoan residential 'hood where we got to cook most of our meals. The place was only US$50! The supermarket's just a few blocks away, though during one of our walks we were almost chased by a huge, angry dog that nearly got out of the fence. Almost all houses in the area had huge, angry dogs. A stroll around the neighborhood meant waking up all the neighbours!
It's a bit of a drive to the city centre, but we got cheap car rental which was recommended by our host.
7. Fez, Morocco
This 400 year-old dar is, not only difficult, but impossible to find by yourself. Fez, the largest preserved medieval medina in the world, has about 9,400(+?) alleys. So for sightseeing, we hired a guide to pick us up from the dar and take us to the medina's popular attractions, then back home. The rest of our time in Fez, because we didn't dare (actually, it was more like, we were lazy to) venture far, we mostly sat on the rooftop and stared at the vast medina before us. It was difficult to leave the comforts of our gorgeous home away from home.
8. Luquillo, Puerto Rico
Our stay in this house in front of a plaza was brief but sweet. Luquillo was a pit stop for our San Juan-Vieques Ferry Terminal Journey. The beach is a few minutes stroll away. There's nothing much going on in town, not a lot of cafes and restaurants and pubs to speak of. However we loved it because of its Puerto Rican rural vibe. Quaint and raw but not in the middle of nowhere.
The Friday eve we stayed in this town, there was a religious gathering at the plaza that went on until about ten. When its noise faded away, the music from a small club behind the house faded in. Kept us all night but I actually enjoyed it. Felt like there was a party in our room.
9. Antigua, Guatemala
This room is part of a compound that consists other rooms housing long-term local tenants. We didn't get to meet the host who was in the capital then, but his housemates invited us to lunch. They cooked barbecue at the front yard, and let Luna help with the small chores. Luna was so in love with the dreadhead, she stalked him our entire stay. The compound's a little far from the centre, but the strolls to and fro allowed us to explore other parts of the city (prior checking in there, we stayed in a guesthouse in the heart of Antigua).
10. Lusaka, Zambia
Didn't take a photo of our Lusaka guesthouse room so posting this carpool selfie Luna took.
Accommodation in Zambia, and Africa in general, is quite pricey (given the quality you're paying for). Even the guesthouse we found through AirBnb, which is far from Lusaka's central business district, was expensive. It was a nightmare getting to it as the carpool driver who drove us from Livingstone got drunk while driving (he must have had 5-6 bottles of beer whilst behind the wheel), and also drunkenly hailed a cab for us and gave wrong directions to the cabbie.
But the guesthouse owner/manager was such a sweetie. Took care of everything we needed, hired trustworthy cabs for us and made sure we had laundry done even if it was mostly rainy when we were there.
So there you go, my err, most interesting AirBnb stays! Have you ever checked in AirBnb lodgings too?
If you haven't or if you'd love to do it again and if you're from the Philippines, I got awesome news for you! SMART, in partnership with Airbnb, will provide booking discounts for SMART Prepaid, Postpaid and Infinity subscribers. Th promo entitles a subscriber to a Php1,200 discount for a single booking, which must be completed (including host acceptance) using the promo code. A minimum spending of PHP4,500 is required to avail of the promo.
To get the unique promo code, text SMARTAirbnb to 2855 for free. Once you have your code, you just need to input this on the check-out page upon booking your chosen Airbnb listing. Subscribers can get their promo codes until December 15, 2016 only. But the codes can be used for bookings until March 31, 2017.
Visit http://www.smart.com.ph/airbnb for more deets.