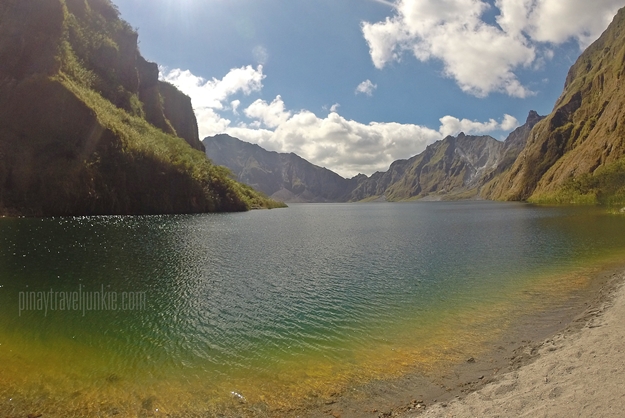 It has gone far from being a hodunk town.
A little past six in the morn on a hump day, barangay Santa Juliana was wide awake. Its municipal tourism office, the epicenter of the buzz. Sheltered in a small hut beside the office were two of the staff preoccupied with paperwork. A throng of guides and drivers were on standby. When I did my first Mt. Pinatubo hike four years ago, it wasn't this hectic.
My friend Z aboard our 4×4 named Offroad Express. Rental is now P3,000 ($67), max 5 people.
The great cataclysm that is the Mt. Pinatubo blowing itself apart (same time a typhoon was lashing the region) in 1991 left several communities not just homeless, but also landless. Lives were lost and a whole nation mourned. Some of the bodies were never found. Buried deep in the terrain that was to morph into stunning, otherworldly topography years and years after.
Traffic on this side of the world.
Mt. Pinatubo's landscape is ever-changing, as caused by elements of nature. The alterations, big and small, make every visit a unique experience. This is why, dawn of 2015, I agreed to accompany a friend to the volcano. He came all the way from the UK with the dream of running from Santa Juliana to crater lake. Or at least, 20 kilometers of it.
So there we were, that sleep-deprived morning, about to turn his dream into a reality.
Streams to be negotiated by a 4×4 enroute to the trailhead. Z running there, somewhere.
Is it your dream too? Okay, maybe not the running part. If it is, then let this be your rough guide in making it finally happen.
First things first.
Lahar pinnacles. One of my fave features of the landscape.
Preparing For The Trip
1. Wear the right footwear. Closed is the way to go. They will protect your feet from tiny, sharp volcanic rocks. Make sure your shoes have outsoles that provide traction on wet surfaces (you will cross streams on foot) and on rocky, slippery slopes.
2. Pack light. A heavy rucksack will obviously encumber you. What to bring: Water (I'd say minimum 2 liters), sunblock (slather heaps), trail snacks (plus packed lunch if staying long at the crater), a scarf to cover your face with during the 4×4 ride, and a change of clothes. Also, bring a first-aid kit.
3. Check the weather forecast.
4. Ready your sense of adventure. You will be trudging for three to four hours (return trip) on lahar. Set your expectations right. Some cardio exercise days prior will help make the trek easier.
A 6'5"er dwarfed by lahar canyons.
How To Get There
By private vehicle:
Coming from Manila, take the North Luzon Expressway (NLEX). Drive north until the end of the expressway, continue northward passing the Mabalacat-Magalang Road then Magalang-Concepcion Road. Turn right when you reach the Capas Junction where Caltex is (another landmark is McDonald's). Just a few meters from that junction, you will see a directional sign on the left side of the road. Simply follow the signs from there. The drive's about 25 kilometers passing through barangay Santo Rosario, Aranguren (turn left at the junction where you see Iglesia ni Cristo), Cristo Rey, Santa Lucia, O' Donnell then finally Santa Juliana.
Capas junction. Arrows show the way from Magalang-Concepcion to MacArthur Highway to the turn off to Santa Julina. Screen shot from Google Maps.
By public transport:
Take any bus that goes to Tarlac, Pangasinan or Baguio (if labeled "SCTEX", inquire if bus will pass by Capas municipality proper). I recommend catching a bus at 5 Star Cubao terminal for there are northbound buses here that leave every 5 or 10 minutes (10-20 minutes in the wee hours). Bus fare is about P200.
Philippine Rabbit services Tarlac but their earliest trip (at the time of writing) is at 6:00 AM.
Ride is an hour and a half. Ask the conductor to drop you off at Capas junction. Landmarks are Caltex gas station and McDonald's. At the junction, hire a tricycle to take you to Santa Juliana tourism office. Pay no more than P300 for a one way ride.
There is a 7-11 branch at Caltex in case you forgot some supplies.
Raw and rugged. My type of beauty.
Registration
1. Tourism office registration is open from 6:00 AM to 8:00 AM (sometimes they accept until 9:00 AM). Come early to avoid being under the harsh sun too long.
2. Fill out the guest information form and waiver. Pay for 4×4 rental and admission fees. Posted on Wendell Mercado's (president of Capas Pinatubo Four-Wheelers Club) blog are the expected expenses: 4×4 vehicle (up to 5 persons capacity) P3,000, tourist guide (per 4×4) P500, conservation fee P500 per person, Aeta passway fee P150 per person. Plus P800 for foreigners. But we were only charged P4,800 for two (one local, one foreigner). Because prices are subject to change, contact Mr. Mercado himself (0919-608-4313) or Capas Tourism Office (check if this number still works 045 9250154).
Namaste from the crater!
What To Expect
* 4×4 ride from Santa Juliana to the trailhead is about one hour.
* At the time of our trip, only one trail was "open" (there used to be two options). Trek takes an hour and half to two hours.
* Activities at the crater lake may be limited. There were no boats available when we went. And the guides would not let anyone swim in the crater. Perhaps actitivites depend on the official travel advisory of Phivolcs (also, the volcano is sacred for the Aetas, so…)
* There are toilets at the crater rim.
* Drinks, chips, instant noodles are for sale at the crater. All items are priced P100 each.
* Not a lot of shade at the crater. Like I've mentioned, slather heaps of sunblock. Or bring an umbrella which can also be used as a trekking pole.
* Pinatubo Spa Town is now closed. Sad. But there is a Nuat Thai branch beside McDonald's if you reall wanna get that massage after the trek.
Crater lake was dark blue when I first went years ago. Didn't get to see it in aquamarine the second time, but hey, that yellow-green tinge is gorgeous too!
Where To Stay
In case you want to sleep in Tarlac before or after the trek. Here are some accommodations in Tarlac city.
Microtel Inn And Suites
Luisita San Miguel
Tarlac City
045 9851770
20 minutes drive to Capas junction
L Square Hotel
Km. 120 Mc Arhtur Highway, San Rafael
Tarlac City
045 4910714
25 minutes drive to Capas Junction
Asiaten Hotel
18 Don Gregorio Avenue, San Sebastian Village
Tarlac City
45 982 3581
30 minutes drive to Capas Junction
Zared: Ran 14 kilometers + hiked 14 kilometers on lahar. Took 0 selfies. Gay: Hiked 14 kilometers on lahar. Took 258 selfies.
Plan your day tour soon. I bet you'll have a blast! Err… Figuratively.