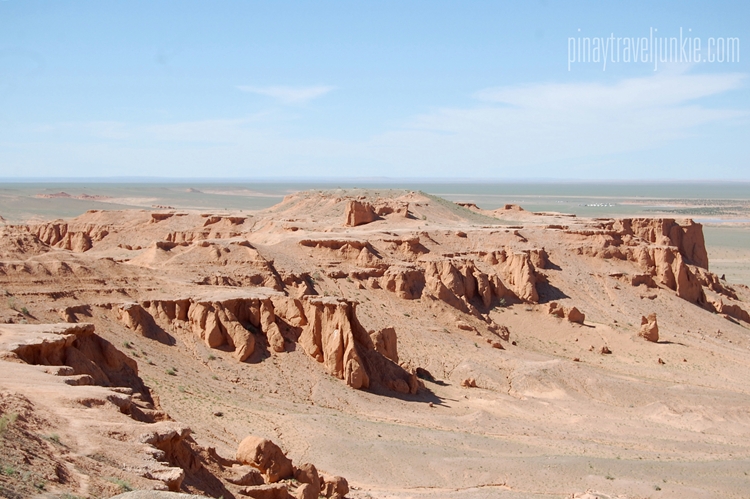 Well here's a muddle of memories…
(But wait, in case you missed the first two parts of this series, here's Part I and Part II)
Day 4
We were allowed to sleep in for the first time. Hurrah!
From ger camp two near Yolyn Am Gorge, it was a relatively short (and when I say "short" I mean it's prolly less than 7 hours — because Gobi) drive to ger camp three.
Fourth day in the desert be like: "Yeah. Beautiful. *yawn*."
Ger camp number four served late lunch. Or was it early dinner? IDK anymore. A break from instant noodles, but… Lamb. Again. Yey for potatoes though.
After dumping our rucksacks in the ger and gobbling our lamb meal faster than you could say "Bactrian", we were ushered out to meet the caravan of adorable-semi malodorous camels. Apparently our stay included a half hour camel ride by — not on — the sand dunes.
Oh she was so ready to rock!
Luna looked ecstatic. It wasn't Luna's first time to ride a camel though. She rode one in the Sahara Desert about a year and a half prior, and was asleep 93.6% of the time. Also, she was a year old, therefore she's got zero recollection of it.
Ride trail.
We mounted our respective camels and off we went…
The toddler's a natural on the camel.
Sand dunes near the ger camp. Can you see the two humans in the photo?
After our ride, the three headed out again and hiked up the dunes while Luna and I stayed in the ger. Luna caught a cold (cause we stayed out in freezing weather at Yolyn Am too long the day before) and eventually contracted a fever.
Oh Mother Earth, you show off!
The above sunset (what Luna and I missed, sob) sealed the day.
Day 5
So let me start day 5 with a pit toilet shot…
The throne. It's a proper seat!
I'd say that one's the most fascinating of all.
On day 5, we passed by another tiny town and had lunch in a proper restaurant for the second time in the Gobi. So what can you order from a Gobi Desert restaurant? Buuz. Sometimes noodles with lamb. Nothing else.
Another plate of them buuz or lamb dumplings.
After lunch, we drove for just an hour to get to the next destination. My favourite this entire trip. Bayanzag, more commonly known as the Flaming Cliffs.
Named so for its red and orange hue, especially during sunset.
Bayanzag, otherworldly and stunning, is famous for the first dinosaur (oviraptor) eggs and nest ever found by the team of paleontologist Roy Chapman Andrews. The team, who was on an expedition for the American Museum of Natural History also found hundreds of fossilized dinosaur remains at the site.
Cliffs overlook the stark southern Gobi landscape. That's our driver Ganba right there. He loves taking photos too.
If really keen, ask your driver/guide if he knows where to find dinosaur bone fossils. You might just be lucky to find them in their own habitat.
We stayed for under an hour and once again hopped in our beast of a van. We did the most stops during the drive as the hubby was suffering from food poisoning and had to go every few minutes. I'd cover the poor thing with a towel and watch him do his dirty business each time. When I wasn't attending to him, I was attending to our bub who still had a bit of a fever and who started throwing up again. Suffice to say, I was in a state of intense stress. But the day turned around when we arrived at what was going to be our fave ger camp of all. They have a shower facility. A shower facility!.
And on the 6th day, we were finally able to take a warm shower. So this kind of photo makes it to a photo essay!
As if the shower wasn't enough, the universe capped our day with this…
Day 6
Day 6, we picked up a hitchhiker. Okay, more like, our driver kidnapped this one.
Adooorbs!
Our driver Ganba acted like a kid with a new toy when he showed us this porcupine in the box. He said he will show it to his grandchild. Aww.
She finally found other kids to play with.
Our last destination before going home is Ongi Monastery.
Selfie struggle is real.
Ongi Monastery is actually a collective name for the ruins of two monasteries: Barlim Monastery on the north bank of Ongi River and Khutagt Monastery on the south bank. The northern monastery complex was built in the 18th century and had 17 temples. One of which was among the largest temples in the country.
"Not much left, even for the imagination.
Both monastery complexes were destroyed in 1939 during the Soviet-ordered purges in the late 30s, oversaw by "the Stalin of Mongolia" Khorloogiin Choibalsan. Monks in the monasteries were killed, and their names are on a commemorative plaque posted on a reconstructed stupa.
View of Ongi River.
Because the hubby and our daughter were both unwell, I explored the ruins on my own. No other group of tourists were there at the time.
Of course this was bound to happen.
From Ongi Monastery, Ganba made a detour — with a quick stop to change a flat tire. We went to another town (slightly bigger than the previous two we visited) which seemed like it barely survived a zombie apocalypse. Yes, the restaurant was empty much like the others we dined at, but their startlingly giant hospital was devoid of humans too. No patients. No doctors and nurses. We were there so we could have Luna checked.
Seemingly abandoned hospital.
We waited for quarter of an hour. Someone might have noticed us nip in and out of the hospital entrance, and called the nurse wherever she was. She arrived flustered, and asked our driver what was up. She checked Luna's temperature and sold us suppositories (the horror) and vitamins. It was all over in a couple of minutes. Then she disappeared again.
Last ger this trip.
Soon, we were back in the van and raced against time to get to our last ger camp before sundown.
Day 7
Felt more like day 7395.
"'Time is irrelevant in the desert', they say." I wrote in the first part of this series. It is very relevant for someone who's got a short attention span, because her sanity depends on it.
But she — I — survived it.
And a Gobi Desert trip's not only a test of one's patience. It is also a test of trust. A test of your relationship with other people and with yourself and with uhm, food.
Can't remember if this was a self-timed shot, or was taken by the ger camp owner or a Bactrian camel.
We all emerged from the desert emotionally unscathed. Feeling accomplished and victorious and even more in love with planet Earth. Also, starving for anything without lamb in it.
'Til the next desert trip!