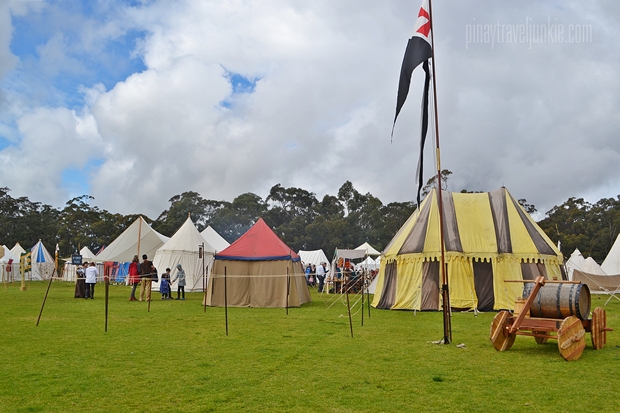 Me boots thrashed through hay. The earth beneath them, mushy. Clumps of soil clung onto my sole as I made my way across the field. It was already drizzling, and the dark canopy of clouds hovering above indicated a possibility of a downpour.
Ahead of us were two women in kirtles — with capes protecting them from the rain — rushing towards a cluster of conical tents. A knight passed as we followed their trail. A knight.
I caught sight of people in tunics gathered around a cauldron over an open fire as we approached the encampment. Just an hour prior, I had Chinese takeaway (packed in a disposable plastic container) for lunch and now I see people cradling wooden/clay bowls in their arms, seemingly waiting for their meal. Did our station wagon travel back in time?
Fashionably misplaced.
The reality… We're still in year 2015. And at the St. Ives Showground which was splendidly dressed as a Medieval village. It's only on its second year yet the Ku-ring-gai Council and the St. Ives Medieval Faire's team did a good job in polishing the nitty-gritty of the event. Based on what I saw, everything from program to parking was well organized. The weather was hostile at times but what's a medieval fest without grime and drama?
Women walking with purpose. We followed their trail until we were distracted by minstrels.
Earlier at the entrance, we grabbed one of the soaked program guides thinking we needed something to lead the way. But we ended up aimlessly gallivanting and stalking costumed folks around anyhow. Our initial plan to stick around for an hour to "simply check it out" (because for us, purchasing a $30 ticket per person online beforehand means there's no backing out even if the weather turns sour) ended up being three hours of hopping and sprinting from one program/activity to another. There was something for every age, every character, and every appetite!
We were spellbound.
I pray to the Medieval gods we get to attend again next year. I'll be coming as an Anglo-Saxon!
Groups of children were taught how to use swords and shields and then engaged in a coordinated mock combat. Relax 'rents, they're rubber swords!
For those who came unprepared. There were a lot of medieval stalls selling body armour, real swords, shields, jewelry and clothes.
Not all those who wander are lost, because some may have already seen the signs.
Set up for the Black Grail Comedy Show. Improvisational comedy and torture, exhibiting some of the instruments and methods of medieval punishment. May not be suitable for littlens.
All them costumed folks were in character.
Don't be afraid to eavesdrop on conversations for it could be a re-enactment.
Some of the village people's lunch came from that cauldron. Yep, it wasn't just for show.
Puppet show featuring Murphys Puppets (our 5 year-old's fave part of the kids' program).
We were able to catch the last trebuchet firing. Trebuchet is a kind of catapult that was used in the Middle Ages. It's not just a font.
Main arena where the jousting and knights tournament were held.
The only hunting/foraging you'd do for food is to browse the booths offering a pretty good variety.
I've never seen anyone look so happy being attacked. She said she'd rather be a knight than a princess. That's Luna of House Emami!
Learn more about this spectacular family entertainment, scoot over to www.stivesmedievalfaire.com.au for more information. See you next year!