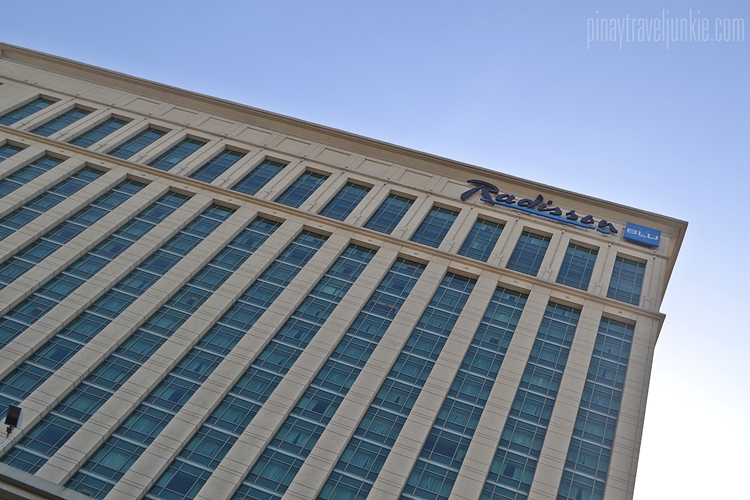 Listlessly I watched my six year-old chase someone across and all around the vast lobby of 5-star international deluxe Radisson Blu Cebu, leaving traces of echoing giggles here and there. About a couple of hours prior, we had just arrived in the Queen City of the South. After a sleepless intercontinental flight the day before and a SEA regional flight earlier in the morn, with chakras drained, I badly needed a shuteye. However, judging by the way the daughter sprinted and shrieked, I knew siesta was to be shelved that arvo.
With three receptionists on post — each all smiles even before you approach the counter (like the concierge at the entrance) — check in was swift. After a quick briefing of the hotel's facilities and the dealio with breakie plus WiFi log in details (Yasss!), we headed straight up to our floor and into our girl cave (Luna's words) for the night.
Luna's play field, Radisson Blu Cebu's expansive lobby.
Rooms
The superior room, covering an approximate floor area of 35sqm, was more than enough play space for the daughter even with our floordrobe luggage and carry ons lying about. And, as expected of any Radisson hotel, is well appointed with modern furnishings. There's a 37-inch LCD satellite television, iPod dock entertainment system, mini bar, coffee-and-tea maker, in-room safe, and an iron with ironing board.
Our fave feature of the room's the twin memory foam beds (with down-filled duvets) — which fell prey to Luna's stomping and jumping. It got the right firmness for me. So were the pillows. Altogether, the whole shebang was more than perfect.
These beds passed Luna's "test".
Other rooms guests can choose from are: Deluxe Room (approximately 61sqm floorspace!), Business Class Room (with additional amenities such as complimentary breakfast in the Business Class Lounge or Feria, complimentary use of the Business Class Lounge boardroom for two hours, and evening cocktails and canapés in the Business Class Lounge), and Premier Room (which has an executive writing desk plus sitting room and has the same additional amenities as the Business Class Room's).
Bathroom was spick and span when we arrived.
Prime Services For Business and Leisure
Swimming Pool (outdoor) – Open daily from 6:00AM to 10:00PM, on the ground level. Spans about 800sqm, registered lifeguards stand on duty during operating hours. There's an area for small toddlers. On a Monday, early arvo, it wasn't crowded at all. We were able to snag lounges without fighting for 'em. Drinks are served by the pool. Ask attendant for menu.
Fitness Room – The hotel's well-equipped fitness room is also located on the lower ground level (and has a view of the pool). Open daily from 06:00 to 23:00.
Spa – Spa Esc's features:

Deluxe treatment rooms with steam bath
Regular treatment rooms with twin beds and individual shower area

Business Center (it is, after all, a business hotel) – National and international long distance calls, complimentary use of the computer with high-speed internet, wireless internet access, and mail, photocopy and fax services.
Babysitting services
Express Checkout/Late Checkout (at no extra cost, subject to availability)
Travel Desk
Transport Service
ATM Machine
Currency Exchange
24-hour room service
Breakfast options: The Super Breakfast Buffet and the Grab & Run breakfast.
       Whew.

Uncrowded Monday arvo.
Restaurants
Speaking of breakie, Radisson Blu Cebu's Super Breakfast Buffet at Feria is indeed, super. The spread consists of a wide variety of international/intercontinental dishes. At the far end, a Chinese noodle counter. Somewhere midway, Indian fare. At the entrance, a fondue fountain (that got Luna all excited). I must have spent a good ten minutes just browsing and deciding which to go for.
At the end, this balikbayan did Filipino. Because dried fish. And dried squid.
Chinese New Year week.
We loved Feria so much that we tried their buffet lunch too. Like in the Super Breakfast buffet, there was a plethora of dishes from different cuisines. And same as earlier, I did Filipino (I did try bits of Japanese, Spanish and Indian though). Because lechon.
Feria's got different daily themes: Seafood Mondays (I was able to sample a seafood medley stir fry served in a small bucket), Hearty Tuesdays (comfort foods such as risotto and unlimited tempura), International Wednesdays, Mediterranean Thursdays, Surf and Turf Friday, Oriental Saturdays and Sunday Filipino Feast.

When in Cebu.
Aside from Feria, there's also Urban Table, which provides an open-air dining experience in Radisson Blu's Events Plaza. Explore their specially curated menu which includes tasy appetizers, prime cuts of Certified American Black Angus Beef, signature U.S. Kobe rib eye, pasta and desserts.
If you're feeling lazy and you refuse to leave that cocoon of a bed, you can also order for room service, available 24 hours daily.
A Break From Vacation
That's what Radisson Blu Cebu provided us. For the budget conscious, it may not be the obvious choice, but for me it is something that is worth the splurge. The service is tops. Its location (Mactan Cebu International Airport is about 11 kilometers away, and SM City Cebu Mall is right beside it), a winner.
It was exactly what we needed after a long transit. And before resuming the rest of the trip.
Radisson Blu Cebu
Sergio Osmeña Boulevard, 6000
Pope John Paul II Avenue
Cebu City, Philippines
www.radissonblu.com/en/hotel-cebu