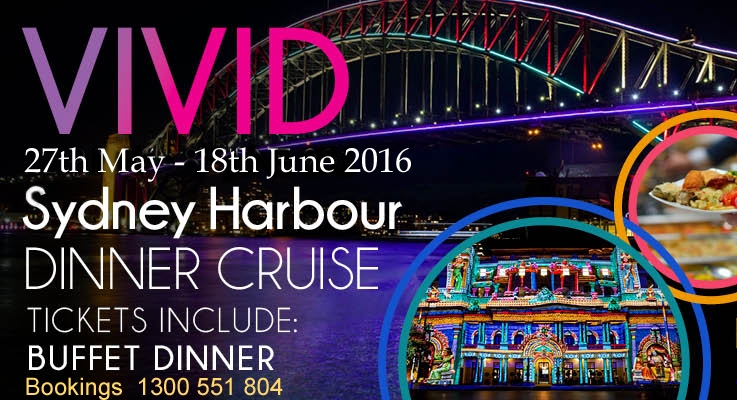 "Should we need to swim to catch the boat, will you help me? I'm terrified of the deep.", I asked my date.
"No…", he promptly replied with brows furrowed, he went on and on but his words drowned in the noise.
I guffawed at his response as we wound our way through the dense Saturday crowd. It seemed like the whole population of the Sydney was out for Vivid, and unfortunately, we were running late (yet we had time to throw jokes) for the boarding time of our harbour cruise. Rhythmboat. That's the catamaran we had to search for. "What have I agreed to?" my date remarked when I told him about the boat name earlier in the day. I was never curious until he pointed it out. I told meself then, "This is gonna be a far more interesting night than I initially thought…".
Rhythmboat's 20 metre Catamaran
To our massive relief, we arrived just as they were about to let people on. Despite the mayhem in Darling Harbour, down King St. Wharf Dock 6/7 it was rather peaceful. Passengers (who also looked flustered after fighting their way to the dock) were in a proper queue, and the boarding was well organized. Didn't take long 'til our turn. After crossing my name off the list, we were assigned our table (shared with four other couples) and were given vouchers for a welcome drink to be claimed at the bar.
Once everyone had settled in, the host welcomed everyone aboard and briefed us about what to expect on our Rhythmboat Vivid Sydney Harbour Cruise. At a little past 8:30 PM, we drifted off. Soon after, tables were called one by one to approach the buffet spread.
Rhythmboat's upper deck, I was prolly the person who stayed out here the longest.
What I fished out of the selection: Cold cuts, salad, pasta, chicken stew (really tasty!) and rice. The food was more than sufficient. There was even enough for second helping — which we didn't go for cause I was too excited to drag my date out in the cold climb up the second deck to watch the light projections along Circular Quay. Twas my first time to do a Sydney harbour cruise in the evening, and Vivid was certainly the right occasion to do so.
The sweeping views was everything I had imagined. I got transfixed by the play of colours projected on the Sydney Harbour Bridge, the Museum of Contemporary Art, and Sydney Opera House. Pretty certain I was the person who stayed out on the upper deck the longest (the date too, but he stood beside a heater). Never good at handling the cold, but that winter eve, I was oblivious to it.
Rhythmboat drifted up 'til Royal Botanical Garden.
Whilst the boat was drifting offshore the Royal Botanical Garden, just after the Drone 100 performance (Intel's world-record-holding illuminated drones performance), our restless feet and curious minds somehow brought us outside the bridge (captain's room). Its door was open and one of the staff had a chat with us. We were introduced to the captain, and he offered us something too good to pass up… He offered us to steer the ship. Which I did. For a good fifteen (twenty? thirty?) minutes. I was having such a good time that me date had to remind me what we were doing the cruise for. I suspected he simply wanted us to head downstairs because it was time for dessert — which I was actually grateful for because the cheesecake, carrot cake, and chocolate cake were all yummo.
In case you go, "No photo, didn't happen!". Hah!
As we were finishing dessert and knocking back our third round of drinks (reasonably priced drinks sold at the bar), birthday celebrants were called out. Party music started playing right when the boat started cruising back to Darling Harbour. My date and I giggled and gave each other "the look". So that's why it's named Rhythmboat. The DJ gave us a medley of disco stuff, and we kinda lost it when three songs from the movie Grease blasted through the speakers. My date and I engaged in a lip-sync battle. I'd say I was pretty full on with my Olivia Newton-John impression. A couple of Abba songs were played too, which felt like a prelude to my Abba Tribute Cruise (also with Rhythmboat) in July.
Because I didn't take a tripod with me to the cruise, my photos taken from the boat are a little blurry. Here's one taken at the quay, just to show you how awesome Vivid is.
We docked back at Darling Harbour 11:05 PM. Leaving us enough time to head off and continue to party elsewhere, with Uptown Funk as our earworm. Saying 'we had a blast' is an understatement. It's definitely an experience worth traveling for.