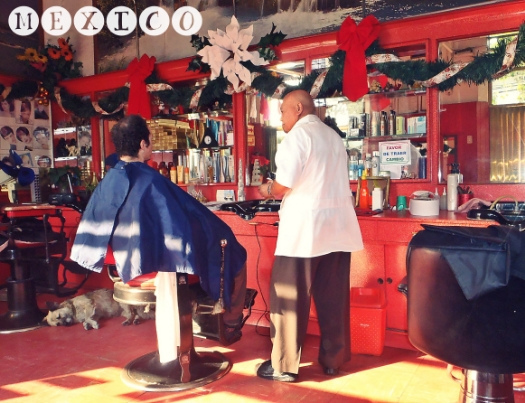 It certainly ain't on a backpacker's itinerary… But hey, if you're on some long term trip, it's one of those unplanned stuff you just gotta do. Like, dental visits (though this could actually be on the to-do list if such job is cheaper overseas than in one's home country). Quite exciting, I must say. Could be horrifying as well if you'd like to experiment with an edgy 'do (since being on the road makes you feel that adventurous) and the hairstylist couldn't understand a single word you say.
Then you start a game of charades. And you lose if the hairstylist snips the wrong guess.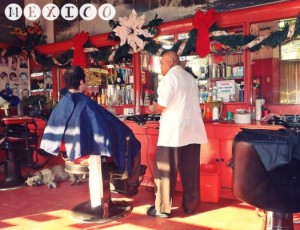 Luckily, our round-the-world salon sessions weren't the harrowing, hairy kind. Case in a point, the hubby's spontaneous shaving affair in Mexico City. We were on our way to Colonia Santa Maria La Riberia's
Morisco Kiosk
from our guesthouse when we caught sight of a humble, neighborhood barbershop. The lone barber seemed to have just awoken from a siesta. He dozily stood in response to our
"Perdón?"
, accompanied by a cane, and slowly led hubby to his stool. We uttered "buzz buzz" while gesturing a shaving motion atop our heads.
He asked, "Todo?". "Si." I replied, followed by "Uno". Easy. Breezy. Cost, 40 MXN ($3).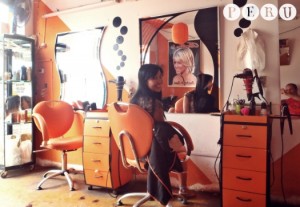 As for my first haircut overseas, well, it went a bit rough. But nothing really traumatic. On day 214 of our round-the-world trip I finally decided to have a trim. My dry, unruly strands then cannot be combed anymore without a fight. So I headed to a nondescript salon, a block away from our hostel in Nazca, Peru to get rid of a few inches. I initially wanted to have my hair colored as well (I was, and still am, curious to see how I'd look like with those Latina blond highlights) but since that would be too complicated to explain, I ended up asking for a simple haircut. Okay, maybe not so simple because I requested for a V-cut.
My V-cut sign language clearly came across (and throwing in the phrase "menos un poco" helped). The problem, however, was the stylist's son who clung onto her thigh whilst sobbing all throughout the deed. True story. Cost, 7 PEN ($2.50).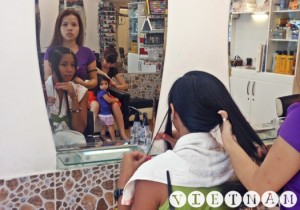 Now for a rather uncommon 'do which I had done almost three weeks ago in Vietnam… The side shave. That one surprisingly worked out well. I arrived at the salon in Ho Chi Minh with parted hair, which I fixed myself earlier in our hostel. The staff speaks a bit of English and understood the word
shave
. They nodded in unison, though their faces spelled "What the heck are you thinking?!". Cost, 60,000 VND ($3) inclusive of tip.
Luna knew something insane was going on.
How about you fellow travel junkie, have you battled your way through that pesky language barrier for a snip?