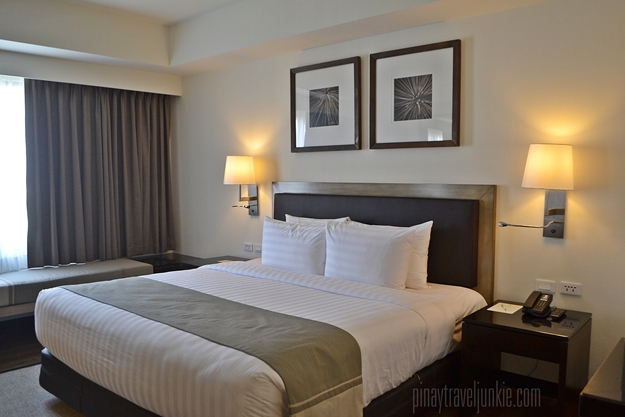 Luck was on our side. Afternoon of the last Saturday before Christmas, traffic on the southbound lane of South Luzon Expressway was eerily light. A bunch of travel bloggers and I were aboard a shuttle that was to deliver our group to the (relatively) new kid in Nuvali, Seda Hotel. We were all invited to stay the night, and we joked about it being the impromptu Christmas party we thought we could only wish for.
Seda Nuvali reception. A stunning Ann Pamintuan chair-slash-artwork greets visitors upon entry.
Seda Hotel Nuvali is a 150-room hotel that opened in March this year. It is the fourth hotel in the country that bears the name Seda (the word means 'silk' in Spanish) and is the first Seda to incorporate a lake into its design. In accordance with Nuvali's aim to be "a dynamic growth center that espouses eco-friendly living", Seda Nuvali was purposefully constructed with the balance of these contrasting elements in mind: Natural and man-made, indoors and outdoors, and local (Filipino) and world class.
Seda Nuvali lobby. To the left is the E-lounge equipped with Apple computers.
The hotel sits on Nuvali's Lakeside Evozone, a 66-hectare PEZA-registered commercial and business district in a campus-type setting. It's conveniently located near Solenad 1 and 2, office buildings, and some industrial sites of Santa Rosa, Laguna — which makes it popular to both leisure weekenders and business travelers. Seda Nuvali's performance since its operation in March confirms that it's a property long awaited by the community. And we were there to finally experience the "seamless service and exceptional value" that the brand takes pride of.
A colossal Deluxe Room, all to myself.
We arrived at the hotel half past check in time. Each was immediately handed his/her room keycard by the receptionist. A room to myself. I couldn't wait to see it. I was assigned a Deluxe Room with a king bed on the 9th floor. 30 sqm in size, equipped with a 40-inch LED HDTV, media panel (on the desk) with HDMI, USB and audio-visual connectivity. There's complimentary WiFi (without the annoying alphanumeric passwords), iPod dock, alarm clock, radio, in-room safe, mini bar and coffee and tea making facilities (I would have been happier if there's a hair dryer, or maybe I didn't find it?). My fave feature of the room is its bench by the window, which I foresaw to be a cozy reading nook (I later proved myself wrong because it only served as a nap corner for me).
Eco Bliss, exclusively created for Seda.
The lure of the bed was irresistible. But it had to wait, for there were more interesting spaces in the hotel we must see. After dumping bags in our respective rooms, we regrouped in the lobby and were given a quick tour around the property. Other amenities include:
Club Lounge (for Club/Premier Room guests).
View of the lake from the Club Lounge. Club and Premier Room guests have access to the Club Lounge and its exclusive privileges including afternoon refreshments and cocktails.
Gym overlooking the pool. Also inside the fitness center is Seda's Touch, the hotel's resident spa. Services include: Aromatherapy (P1,100), Swedish Massage (P800), Shiatsu Massage (P800), Combination (P800), Dead Sea Salt Scrub (P900), Aromatic Facial (P1,100), Lifting Facial (P1,100), Diamond Peel (P1,100), Hair Spa (P800), Foot Massage (P800), and Foot Spa (P800). Operating hours, from 1:00 PM to 10:00 PM daily.

Children's playroom.

Game room. Ferdz of Ironwulf and gamer Kara of Travel Up sample a game.

The pool. The building's exterior, though modern in design, compliments its natural surroundings.

Function room.

Seda's signature restaurant, Misto, which offers local faves and international cuisine. Where the complimentary breakfast is served.
When the hotel ocular concluded, we were whisked to the nearby Evoliving Center. An iconic structure in Nuvali which houses its corporate office and a few interactive exhibits that shows visitors what the eco-community is all about. A brief film-viewing gave us a bigger picture of Nuvali's vision, which to me, was an integral part of the tour. Not only were we able to learn more about "evoliving", we also discovered a plethora of activities for all ages which Nuvali offers.
REPUBL1C Wakepark, one of the attractions in Nuvali. A watersports facility featuring a four-hectare lake, skate park, a bar and restaurant.
What to see and do in Nuvali: Shopping (Solenad 1 and 2), fish feeding, boating (water taxi ride is P30 per head and cruises from 8:00 AM to 5:00 PM), trekking and bird-watching (Nuvali has a 17-kilometer-long buffer green and forest zone), off-road biking, leisure biking, wake boarding, team building and camping (Camp N opening soon).
Seda Nuvali can answer/assist guests with their inquiries regarding such activities.
The gang with the lovely staff from Seda Hotel and Nuvali.
After a quick drive to REPUBL1C Wakepark, we capped our afternoon with hors d'oeuvres and cocktails at the Club Lounge on Seda's 9th floor. And from then on, the group was given free time until check out the next day. Time which — save for a Cards Against Humanity session with fellow bloggers in the evening — I mostly spent in my room. While the others strolled, biked and shopped, I chose to sweat it out with a quick in-room vinyasa yoga.
Because Seda Nuvali does that to you. It provides you a cocoon of a room with a view of greenery outside your window, which makes you want to just stay indoors.
Pardon the selfie, but that Ann Pamintuan Cocoon chair is so gorgeous. I. Just. Had. To.
Planning to spend your holidays in Nuvali? Seda Nuvali is offering these packages 'til December 30:
Deluxe Room P4,500 net per night (P4,000 minimum 2 nights or 2 rooms)
Club Room P5,500 net per night (P5,000 minimum 2 nights or 2 rooms)
Premier Room P6,500 net per night (P6,000 minimum 2 nights or 2 rooms)
On New Year's Eve (December 31, 2014), dinner buffet at Misto is 7:00 PM to 10:00 PM (P1,200++). Cocktails 10:00 PM to 1:00 AM.
How to get there:
Nuvali is accessible through these exits along the South Luzon Expressway: Greenfield City/Unilab/Mamplasan, Eton City Greenfield, Sta. Rosa, Silangan, and Calamba.
By bus (Jam Liner), Monday-Fridy: Nuvali to Makati 6:00 AM to 6:30 AM. Makati to Nuvali 5:30 PM, 6:30 PM, 7:30 PM.
Travel time to key destinations (light-moderate traffic):
50 minutes from Makati
30 minutes from Alabang
15 minutes from Sta. Rosa Exit
Seda NUVALI
Lakeside Evozone, NUVALI, Sta. Rosa
City, Laguna, 4026 Philippines
Phone Numbers: (6349) 2558888 or (049) 5433788
Fax Number: (6349) 2558891
Email: nuv@sedahotels.com