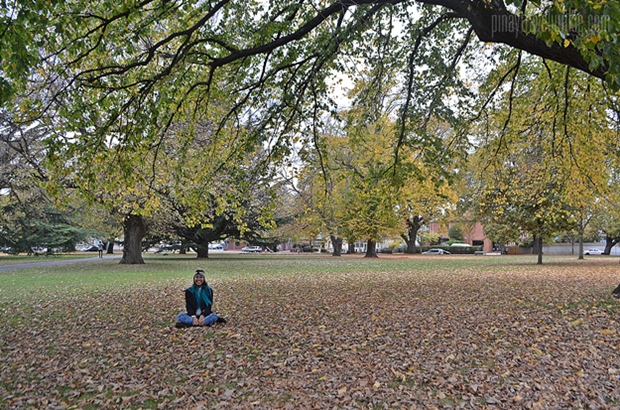 I wish I could sing the line, "The cold never bothered me anyway!", and own it. But the cold has always bothered this tropical island girl (as much as that Frozen song Let It Go bothered a million parents). The cold has in fact, terrorized me a few occasions in the past.
And that's basically the storyline of my Tasmania jaunt with Rain of www.wordsandwanderlust.com and Ron of www.flip travels.com, about four weeks ago. Me being bothered by the frigid Tasmanian autumn (and an untimely cystitis) every minute we were out. So why the torture, you ask. Because that prepossessing fall palette of Australia's southernmost state is worth freezing my arse for. And well, because it's nice to garb myself with pretty trench coats once in a while.
Here are some of the highlights of the trip (yes, I did a whole lot more than whinging):
1. Launceston City Park
A city park near Launceston's CBD which houses the John Hart Conservatory, the historic Albert Hall, the Jubilee Fountain, a Japanese Macaque Monkey (snow monkeys!) enclosure, and a whole lotta trees and shrubs. We aimlessly wandered in and around it after stuffing ourselves with gourmet food from the Harvest Launceston Community Farmers' Market (held every Saturday, 8:30 AM to 12:30 PM).
2. Boag's Brewery
Missed the brewery tour by a few minutes so we drowned our disappointment in, what else, Boag's beers — some of which are only sold in Tasmania. Rain walked outta there with a six-pack which she was to lug for a week, until the journey back to Sydney. Gotta admire the girl's passion for beer.
3. Sheffield Town
The little town of murals, halfway between Launceston and Cradle Mountain-Lake St. Clair National Park.
4. Cradle Mountain
Which unsurprisingly, because of cloud cover, did not show itself that day.
5. Waldheim and Weindorfers Forest Walk
A 20-minute circuit starting from the historic Waldheim Chalet and through a mossy, whimsical forest.
6. This cow.
We spotted at Ashgrove Tasmanian Farm Cheese, where we sampled cheeses as part of our Cradle Mountain Tour. Fell in love with the Wild Wasabi Cheese.
7. Tasmanian Museum And Art Gallery
Where Patrick Hall's artworks swept me off me feet.
8. Richmond Bridge
Oldest bridge in Australia still in use.
9. Clemens Hill Cellar Door and Kitchen
Historic Richmond Village tour turned into a wine-tasting tour. Thanks to the rain.
10. Salamanca Arts Centre
And actually, the whole of Hobart, for it's the southmost city I've been to.

Coming Home To Spring Blooms
The trip, which we dubbed Tasmania Mania, was my longest trip away from my four-year old. And it is only when I'm away from family (who I mostly travel with), do I get homesick. More so did I feel it when I missed celebrating last Mother's Day with them.
My welcome-back greeting, a bouquet of stunning blooms in a box, made me feel like it's Mother's Day again. Accompanied by Gold Coast's balmy weather, it was as though I came home to spring. If you also want to give someone the warmest Australia welcome, choose from a wide range of fresh flowers in creative arrangements at FreshFlowers.com.au. Flowers can be delivered in Melbourne and all metropolitan areas in Australia, check their locations.
Now excuse me while I further thaw my whole being in preparation for the next backpacking trip somewhere sunnier about three weeks from now. One word: Kokomo.