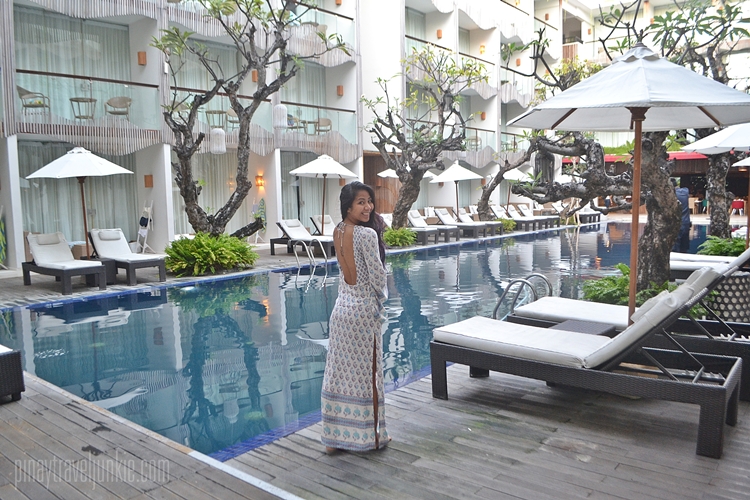 They say third time's a charm. Yet there I was at the end of a queue that's about fifty people deep, despairing. Famished. Wondering how many days it will take me to reach the immigration counter whilst I stared blankly at one of the airport staff saying "Two hours this line, pay $30, I help you". Aww, how thoughtful of him.
The second time I visited Bali was four years prior. Back then, I transited though the old terminal which I don't remember being that crowded and chaotic — as if Bali's the promised land everyone needed to move to, post apocalypse. Through the years, more and more flights have been added. The relatively recent airport expansion's expected to address this and it seemed it's coping well, but the accommodation of passengers at border control points (immigration and customs) is another story. A horror story for some.
It took me almost an hour to go through immigration and another hour to get my luggage.
Past six in the eve, I emerged out of the arrivals gate and into a mosh circle of taxi drivers. I pulled myself away and sprinted to the official airport taxi counter. 150,000 IDR to Jalan Benesari. Half the price those cab drivers were asking for.
The Bene Hotel's lobby is right beside its resident Plumeria restaurant, and has a view of the pool.
My pain didn't end there. It was rush hour, and it took double the time to get to my destination. A 50-minute crawl to cover just six kilometres. Three hours since touching down in Denpasar, I finally arrived at The Bene Hotel, tucked at the end of a small alley off Jalan Benesari like a hideout. A bell man promptly took my luggage from the boot and asked me to take a seat in the lobby.
"I sat too long in the airplane.", I sounded like a child in a tantrum fit.
The bell man laughed. I laughed. My exhaustion suddenly dissipated. And in that moment, I felt like my vacation has officially started. In that moment, I realized I still love Kuta no matter how touristy it is.
I hurriedly signed the guest form, and the receptionist who checked me in was the one who escorted me to my room.
View of the pool from my balcony!
I was booked in a Superior Room on the third floor. The floor space, 28 square metres. There's plenty of room to walk around even with my luggage lying on the floor. There's a king size bed on one side of the wall, and a work desk on the other side. An LCD telly is propped up against the wall above the desk. Glass wall/doors open to a balcony, which has a view of the pool below. If you keep the full-length drapes open, it gives the room the illusion of having more space.
After giving me info regarding breakie and pool sched, the staff left me to my peace.
The Bene Hotel has four other room types:
Deluxe Room, located from the second to fourth floor which also has a balcony with a pool view. Got a wee bit more floor space than the Superior Room's at 30 square metres.
Pool Access Room, located on the first floor (28 square metres). As the name says, it's got a direct access to the pool.
Family Suite, also located from the second to fourth floor has a 71 square-metre floor space. This suite features two king size beds, a comfy lounge, wooden table, a telly with satellite channels, and en-suite bathroom with bathtub in each room.
Royal Suite, located from 1st to fourth floor has a whopping 85 square-metre floor space. Lavishly appointed interiors with an open-plan dining and living area layout. The room features a choice of two king size beds or one king size bed with one twin bed, lounge with wooden table, dining table for four, telly with satellite channels, tea/coffee making facility. Bathtub available only in king bedroom.
Lowest price for Pool Access Room USD$50, Family Suite US$75, and Royal Suite US$60 (when off-peak). Click here –> The Bene Hotel's website for more details.
Pool Access Room on the first floor.
Facilities And Amenities:
Self-controlled airconditioning (the one in my room works perfectly well)
Free WiFi
LCD telly with satellite channels
Work desk and reading lamp
Safety box
Tea and coffee making facilities
Mini bar (with two complimentary bottled water)
Toiletries
Hair dryer
Yukata (kimono) and slippers
The bed looked so inviting, but instead of jumping in, I peeled my Aussie winter layers off and changed to an ensemble more suitable to the weather. I was to meet a local friend — who recently moved to Ubud — for dinner. He was our Couchsurfing host in Yogyakarta seven years ago, and I couldn't wait to see him again. He had been waiting somewhere nearby for two hours.
Through our stroll to Udayana Food Centre (al fresco dining, heaps of Indonesian and Chinese food stalls), I learned how convenient The Bene Hotel's location is. Jl. Pantai Kuta (oceanfront) is just a 6-minute stroll away. There are convenience stores, food warungs, salons, and even tattoo shops just outside the alley. And Beach Walk Mall is just an ll-minute walk along Jl. Pantai Kuta.
Glass wall/sliding door that lets the outdoors in.
For guests who don't feel like going out, Plumeria does lunch and dinner as well. There's a DJ playing music by the poolside in the arvo (except Mondays). In the evening, there's an acoustic performer. Finishes before late, in case you're wondering about the noise.
After dinner, I went straight back to the hotel. My head was still languishing in GMT+10:00, and so at nine odd in the eve, I tucked in.
The next morn, I rose before the sun awoke. Fully recharged and refreshed. I went to the pool side — was greeted by smiles and g'mornings as I walked past Plumeria — and sat on one of the lounges (after harassing asking a staff who was placing mattresses on the pool lounge to take a photo of me). Thanks to the availability of WiFi throughout the hotel, I was able to read a few work emails until the restaurant opened at six.
Plumeria's breakfast is a mix of international and local. Loved their soto ayam and croissant. Odd combination, I know.
Plumeria serves local and contintal breakfast. Built a mountain of goodness on one plate: bacon, noodles, hash browns, and some fish. On another plate was my omelette and a pain au chocolat (later I ate a croissant too). Also got me a small bowl of soto ayam (chicken noodle soup). Cereals and fruits (try the snake fruit or salak) are available as well. Instead of choosing the ones I really fancy, I sampled a bit of everything for uhm… The sake of this review.
After a plate change (yes there was room for another helping of random bits and pieces) and two coffee refills, I hauled my heavy belly back into my room and out the balcony. Nothing planned for the day except a three-hour spa session in Lagoon Spa Seminyak at midday. I watched other guests frolic in the water. Even with my unflattering Bintang beer/buffet breakie gut, I wished I could dip in the pool. But because I saw a housekeeper meticulously clean the pool earlier, I wouldn't dare dye the water purple with my hair.
I resigned to sitting on the outdoor chair, basking in the glorious sun. Making the most out of my lone time in a luxurious space before backpacking around Flores Island with a fellow travel blogger in two days.
I missed having my daughter around, but I also missed having time for myself. And the Bene Hotel provided me seclusion without making me feel entirely alone. Just how I envisioned my vacation to be.
The Bene Hotel
Jalan Benesari
Kuta, Bali
www.thebenehotel.com