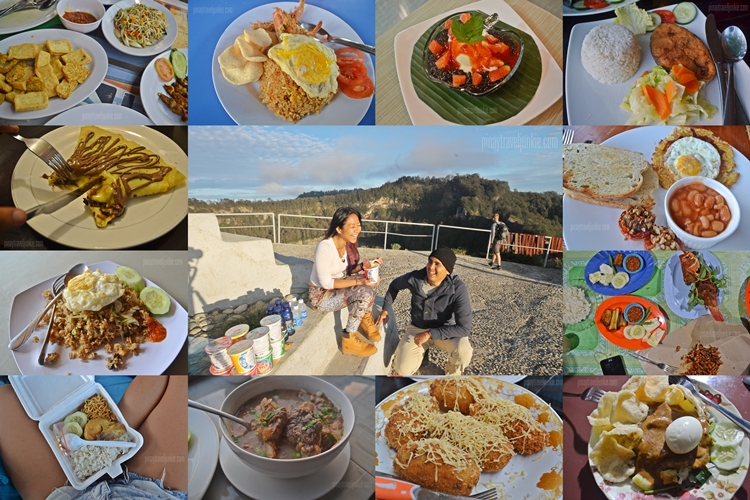 I came, I saw, I conquered platefuls of Indonesian food.
I grew a beer gut.
I've said it too many times, Indonesian cuisine is one of my favourites in the world ("world" meaning the 49 countries I've been to). I love it more than Thai — I know that's a lot to say, as Thai cuisine seems to be the most popular in Southeast Asia. I am no connoisseur of food (not even the best homecook on the block), I'm simply voicing out my obsession personal preference.
What Indonesian food does to me. Left: Morning. Right: Evening. See #4.
And speaking of food, I don't just love eating them, I love hearing about the stories they're ensconced in as well. From the planting/harvesting of the ingredients to the prepping… To being chosen by a customer off a menu (Was it a random choice? Something much craved for?).
So today's foodporn, folks, not only presents (almost) all the Indonesian and not-so Indonesian food and non Indonesian food I ate during my recent trip in Bali and Flores but also gives a dash of travel anecdotes.
Warning: Stop scrolling down if hangry.
1. Fried tempeh and tofu, chicken sate (satay), sauteed vegetables.
"How many days you didn't eat?!", my Indonesian friend Sandi (who was our Couchsurfing host in Yogyakarta seven years ago) jokingly asked whilst watching me devour everything in huge spoonfuls. We were at Udayana Food Centre in Kuta, recommended by a convenience store attendant when we asked him where we could find tempeh (which I had not eaten for four years) in the area.
Just arrived in the country that arvo. And the second sentence (after "It's so good to see you again!")) I blurted out to my friend when I saw him in the lobby of The Bene Hotel where I was staying was, "I need my fried tempeh!".
2. Plumeria buffet breakie (too many dishes to mention).
Plumeria is The Bene Hotel's resident restaurant. The buffet breakie is a mix of continental and local dishes. First morning: I piled bacon strips, noodles, hash browns, and some fish on one plate. On another plate was omelette and a pain au chocolat (later I had a croissant too). I loved their soto ayam, spicy yellow (cause of turmeric) chicken with vermicelli (or lontong, compressed rice cake). I was prolly eating for more than an hour.
3. Special Nasi Goreng
After a three-hour spa session at Lagoon Spa Seminyak (highly recommend, check out their services), I trudged like a zombie hungry for brains along Jl. Pantai Kuta. It was five odd in the afternoon and the last thing I had was the Plumeria breakie (and it was good I, uhm, overate). Went back to the stall where Sandi and I ate the night before. "Where's your boyfriend?", the waiter asked. "Menu please.", was my response. Ordered the nasi goreng (literally "fried rice") because it was easy and cheapish (Udayana's location is across the beach so food is generally pricier). The nasi goreng was "special" cause it includes two breaded, deep-fried prawns (which I dipped in vinegar). Yum.
4. Bubur Injin (Drool!)
In the eve, I was invited by Astadala Hotel Management (who manages The Bene Hotel) to dine in Pencar Seafood and Grill (an hour and a half after that special nasi goreng). I sampled a full course (each course in full size) dinner which included crab cakes, seafood chowder, seafood platter (main course) and bubur injin for dessert. Bubur injin is Balinese black rice pudding topped with vanilla ice cream and strawberry compote. Not too sweet. And the hot pudding-cold ice cream combo gave me a tingling sensation (Katy Perry's Hot N Cold annoyingly played over and over in my head while I ate it. Ugh.)
I walked out of the restaurant looking pregnant.
5. Ikan Goreng (With A View)
Indonesia Day 3, I joined fellow travel blogger Edgar of eazytraveler.net in Flores. We had our first meal together in Paradise Bar, Labuan Bajo. It's got great reviews online so we thought of giving it a go. It was already packed past four in the arvo, everyone was there for the same reason. The amazing sunset view. And we were there partly for dinner. I had ikan goreng (fried fish) while Edgar had the ayam goreng (fried chicken). Food was good but expensive at almost $7 each. Price includes view, I guess.
6. Nutella And Cheese Crepe
IKR. What is this sorcery?! Okay, so after the pricey meals we had in Paradise Bar, we had a craving for anything sweet. The Paradise Bar staff (they offer free rides to and from the pub — which Edgar initially thought was sketchy) dropped us off just across Scooperific. The place is famous for homemade ice creams and crepe. We ordered the oddest item on the menu, the nutella and cheese crepe. The combination actually works!
7. Blue Marlin Komodo Lodge Big Breakie
Blue Marlin Komodo Lodge was our home for two nights in Labuan Bajo. Breakie was included in our accommodation and I ordered their big breakie with eggs, toast, hash brown, beans, tomatoes and shrooms (they mainly offered continental/international options). Big breakie for the big… Sleeper. I went back to sleep while Edgar went out for a dive.
8. Another Ikan Goreng (Plus Tempeh with Ikan Bilis)
This time at Labuan Bajo's fish market, where you can choose amongst a wide array of fresh fish plus other seafood and choose the cooking method as well. We walked 'til the far end of the seafood market (aside from dinner, we were looking for a play to stay) and chose the warung that didn't have any customers. We ordered a whole fried fish. While waiting for the fish, traffic officers helped me cross a very busy intersection so I could buy tempeh with ikan bilis (dried anchovies) from another warung.
All that food washed down with room temperature Bintang.
9. Komodo National Park Tour Packed Lunch
Provided by the tour operator. Chicken stew, noodles and rice eaten aboard a boat. Doesn't look really special, but if you're in the middle of the ocean, this looks way better than that pack of bikkies you brought from mainland.
10. Mi Goreng Seafood
While taking photos of Blue Marlin Komodo Lodge's exteriors, we spotted a restaurant (at least it looked like it) on the third floor of a nearby building and thought of having an early dinner there as it offers an unobstructed view of the ocean. The resto's name is Warung Mafia (no idea where they got the name, it definitely ain't Italian), and it was devoid of diners when we arrived. Edgar ordered the mi goreng. Spicy fried noodles with garlic, shallots, chicken/pork/beef/prawn/sliced bakso (meatballs), Chinese cabbage, and egg.
While I ordered the sop konro, a rib soup from Sulawesi…
11. Sop Konro
The broth is flavoured with coriander, keluwak, salam, turmeric, galangal, nutmeg, cinnamon, tamarind, lemongrass, and clove. Twas my first time to try it and it's now one of my fave Indo dishes. Insanely tasty. It's got so much depth, yet feels light.
12. Nth tempeh plate this trip. And our fave.
Perfectly fried, good quality tempeh. Looking fancy on a wooden plate in Arto Moro Restaurant. Our last dinner in Labuan Bajo.
13. Nasi Campur Bungkus
Nasi campur (litereally "mixed rice") is a scoop of rice with various accompanying dishes in small portions. Bought this one in a bungkus (wrap — usually paper, folded and sealed with a rubber band) a mobile stand early morn for just $0.50 (actually, a dollar, cause the lady said "no change").
14. Breaded Tempeh (Promise, this is the last tempeh on this list!)
The only breaded tempeh we had this trip and it blew our minds! Had this in a small roadside eatery where our bus (Labuan Bajo-Ruteng drive) stopped for late lunch.
15. Samcan (Daging Lapis) Goreng
Because Flores is predominantly Catholic, it's easy to find pork dishes in warungs. The owner of the Mario's Guesthouse in Ruteng recommended Spring Hill Restaurant, where our ojek (motorcycle taxi) drivers took us after our visit to the Spiderweb Rice Fields. A lot of the dishes on the menu seemed to have Chinese influence, even this crispy fried pork that we ordered. And nope, we weren't complaining.
16. Mi Sedaap Instant Noodles
Ah yes. Just had to include instant noodles because 1. It's Southeast Asia and 2. It's actually comfort food for me. We had mi sedaap in a warung after getting off the Ruteng-Bajawa bus. I was starving and suffering from dysmenorrhea (sorry, TMI), and I accidentally left my suitcase on the road. But a lovely local (who later on toured us in and around Bajawa) brought it to the warung for me. He also ordered the mi sedaap for us. Indonesians usually add veggies and chili and sometimes a squeeze of lime to the instant noodle soup to brighten up the flavour.
17. Cap Cai
Pronounced chap chay, is a Chinese-Indonesian veggie dish. Usually with cabbage or bok choy, broccoli, cauliflower, carrot and beans. Uncomplicated. Healthy (but uhm, we had fried pork on the side).
18. Croquette! In Moni!
Moni is a tiny village at the foot of Mount Kelimutu. If you search for it on the map, you'll learn that it's in the middle of Flores nowhere. So imagine our surprise when a waiter, after being asked for recommendations, proudly told us about their vegetable and cheese croquettes at Bintang Cafe. Edgar was craving for anything with cheese, so he ordered them. And because he ordered too much food, we took the croquettes home. They served as my breakie the next day at four in the morn, before heading to the airport.
19. Gado Gado
Gado gado (literally "mix mix"), also called lotek, is an Indonesian salad. Veggies are blanched, not raw. Its dressing is peanut sauce, usually of very thick consistency. Also served with a hard boiled egg, sometimes with tempeh or tofu. And topped with heaps of krupuk. This was my last meal with my travel buddy Edgar at Kelimutu Crater Lakes Eco Lodge.
20. Pop Mie
I know, instant noodles again, but having this after an almost one-hour freezing ride (which started at four in the morn) and a twenty minute hike up the view point of Kelimutu's crater lakes… Well, it's a major treat.
Also, I just thought it would be nice to end this post with a photo of me and the travel buddy.
'Til the next Indonesian food adventure (which will happen pretty soon)!