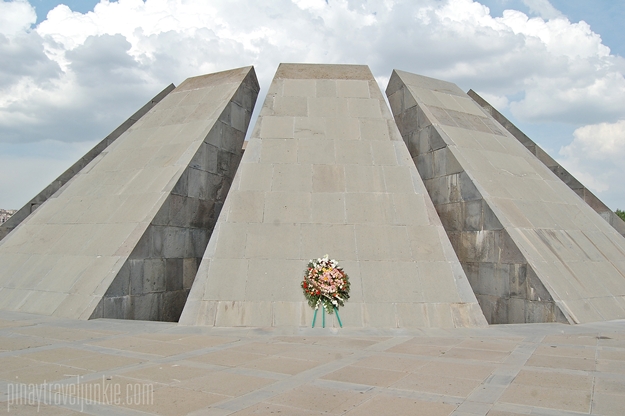 [Warning: A couple of graphic images in this post.]
No words. Just concealed tears.
The air felt stiff. So stiff it smothered my senses.
I was painfully looking at a black and white photo of Armenian doctors hanged at Aleppo Square, 1916. In my peripheral view I caught sight of other visitors, barely moving, fixated at equally disturbing visuals. Across the floor, somberness crept and crippled the living. Every step, every breath taken within the museum walls was heavy.
Approaching closing time, the Armenian Genocide Museum was awfully silent. Footsteps of the few people left wandering about were faint, as if shushed so as not to awake spirits in slumber. I begged three-year-old Luna not to make a sound. As though any sound of merriment would be regarded as an offense.
Doctors hanged at Aleppo Square.
Text box says: Starved Armenian woman with her two children in the desert, Ras El Ayn.
Everywhere I turned, I felt like hundreds of pairs of sad eyes followed me.
Unlike in Cambodia's Tuol Sleng Genocide Museum, the faces in photographs on display did not die where we stood but elsewhere: Slain (able-bodied men) in present-day Turkey or left for dead (women and children) in the Syrian desert after a deportation march. But like in Cambodia's Tuol Sleng Genocide Museum, I didn't stay long as expected. My heart could not bear the agony.
Armenia is a Christian country. And the Ottoman Empire, being a Muslim empire, viewed it as a hindrance to the expansion of their state to the east.
The hubby browsing the population of Armenians in different provinces before and after the genocide.
About 1-1.5 million Armenians were killed during and after World War I (between 1915-1923). And only hundreds of thousands survived the genocide. To put it in perspective, that's prolly just half of the population of Manila. If this is your first time to read about the Armenian genocide, long story short, it is the Ottoman Turks' methodical extermination of Armenians in their homeland. The Turks suspected Armenia to be an ally of its enemy, Imperial Russia. And they used this as justification for annihilating the population.
Armenian Genocide Memorial.
Eternal flame dedicated to the people killed during the Armenian Genocide. Surrounded by concrete inward-leaning slabs which represent the 12 provinces Armenia lost to Turkey.
The killings were also (or perhaps primarily) an attempt to make up a homogenous Turkish Empire. Armenia is a Christian country (they adopted Christianity as state religion in 301 AD). Being a Muslim Empire, the Turks considered this as hindrance to the expansion of their territory to the east. And they resolved to forced conversion or persecution.
Armenia is one of the world's oldest civilizations. Its kingdom once stretched from the Caspian to the Mediterranean Sea. I find it difficult to fathom how this was brought upon them.
Armenian Genocide memorial's arrow-shaped, 44-meter granite stele, symbolizes the survival and spiritual rebirth of the Armenian people.
Today marks the centenary of the Armenian Genocide. April 24, 1915 was when Armenian intellectuals and leaders were rounded up in Constantinople (Istanbul), and eventually executed. Mass killings of the rest of the population followed. A hundred years on and Turkey still objects the use of term genocide to describe the massacres. Turkey is celebrating the centenary of the landings in Gallipoli today, a day early than the actual date of the event. Armenians accused them of deliberately overshadowing Yerevan's commemorations.
It does seem suspicious.
Here in Australia, citizens prepare for the Anzac Day centenary (which is basically the Gallipoli landings) tomorrow. There's no talk of the Armenian Genocide, not even a single mention on the telly. Australia isn't one of 26 countries who have recognized the Armenian Genocide (although two states passed a motion condemning the genocide rather recently). I feel like I'm mourning alone.
The Armenian Genocide is one of the first modern genocides, that I believe. And I hope that it won't take another hundred years for all nations acknowledge that.
How to get to Armenian Genocide Museum/Tsisernakaberd Memorial Complex:
The Armenian Genocide Museum sits on the hill of Tsitsernakaberd just above Yerevan's city center. Can easily be reached by taxi. Only a 15-minute drive without traffic from the Swan Lake. If you're feeling adventurous and you decide to walk it, give an hour each way.