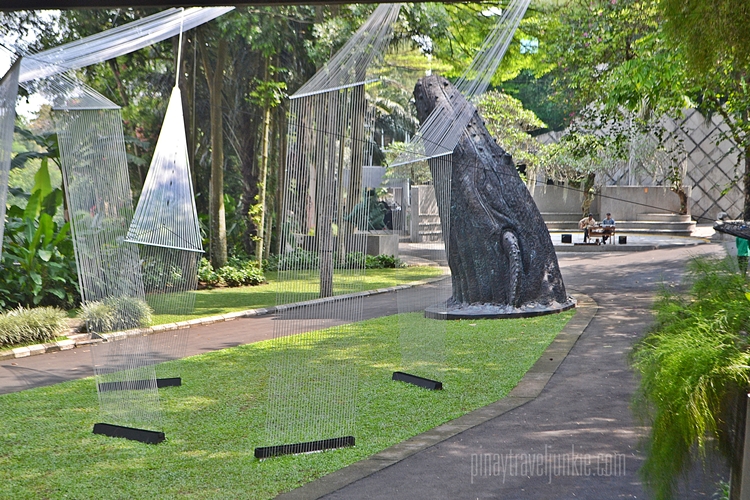 Under the shade of towering trees, whose branches swayed to the haunting Sigur Ros-esque music played by a duo in the middle of NuArt Sculpture Park, we strolled in packs.
We clung on to what was familiar: Spoke mainly our native language, and shared our thoughts within our respective groups. Our interaction with people outside of our circle were limited to stolen glances and bashful smiles and a quick "Hi, where are you from? What's your name?" when we're feeling brave enough.
It was day two of Trip Of Wonders (a media familiarization trip organized by Indonesia's Ministry of Tourism). After a three-and-a-half train ride from Jakarta's Gambir Railway Station to Bandung's Hall Station, we were whisked to NuArt Sculpture Park in the northern part of Bandung — capital of West Java province. Where despite hunger pangs, the forty delegates from six ASEAN countries dispersed to take photos of metal sculptures scattered around the park… Okay, more like, to take photos of ourselves with the metal sculptures. NuArt was the first attraction on the itinerary of our twelve-day trip, and so each blogger/vlogger/social media influencer was hard at work.
Took a while to gather everyone at N Cafe, but once settled, it didn't take long for the whole group to ambush the buffet table.
Twirl selfie while no one else was around.
NuArt Gallery
NuArt Sculpture Park, nestled in Setra Dutra residential area, is a 3-hectare park that exhibits Indonesian sculptor Nyoman Nuarta's old and new and under-construction artworks. It was first opened in 2000, and as of writing, admission to the park is still free. Starting from October however, there will be a small fee for entrance.
Lucky to have met the genius behind mind-blowing metal artworks, Nyoman Nuarta.
Nyoman Nuarta's (Bali-born, Bandung-based) perhaps best known to tourists for his work Garuda Wisnu Kencana in Bali. His other gigantic sculptures include Jalesveva Jayamahe Monument (also known as Monjaya) in Surabaya, the controversial Tiga Mojang (which was taken down by the Bekasi administration), and the Arjuna Wijaya statue in Jakarta. Nuarta's stunning sculptures are mostly made of copper and brass. Even the smaller ones displayed in NuArt Gallery are made of molten metal.
After lunch, we were ushered to the third floor of NuArt Gallery — along the way I briefly browsed artworks by other local artists on the second floor. Three short films were screened in the audio-visual room. All well produced. All inspiring. All gave us a deeper understanding of some of Nuarta's masterpieces.
And little did we know we were in for a huge surprise. Nyoman Nuarta was in the house. He joined us in the audio-visual room and he was kind enough to accommodate our barrage of questions. He shared with us his inspirations, his visions, and the many challenges/obstacles he and his team face creating art in a country composed of varied (sometimes conflicting) faiths.
When we've finally exhausted our queries, Nyoman Nuarta led us to the gallery where he discussed his artworks further. Some of us scrambled for selfies with him, and asked whoever was in close proximity to take photos. That kinda broke the ice. I began chatting with random people who were equally smitten by Nuarta's art. Who were fangirl/boying. Who acknowledge how lucky we were to be there.
NuArt Workshop
On the rear side of the park is the NuArt Workshop. Here, park guests get to witness Nuarta's artisans hammering, welding and molding (and you get to rock a hard hat!). The "junkyard" itself, for me, is an attraction of sorts.
At the end of the workshop is a waterfall. Not exactly a pretty sight (not the cleanest), but produces the perfect white noise for an artist at work. That is, if one can hear past the welding machines' roars.
When visiting, drop by the tour desk at NuArt Building so they can assign someone to accompany you. NuArt Workshop is open only during weekdays Monday-Friday, 9:00 AM – 5:00 PM.
Just before four in the arvo, we started hiking making our way back to the bus. Once again walking past copper and brass sculptures which appeared like either fading in the wind, or melting to the ground. Nyoman Nuarta's art shows movement. It evokes drama.
Nuarta's art, with its universal appeal, brought us delegates — instant fans — a little closer together. We arrived at NuArt Sculpture Park as strangers and left as new-found comrades. Oh, and that live ambient/dreamy pop music was the perfect, trippy soundtrack to such transcendent journey.
NuArt Sculpture Park
Jl. Setraduta Raya No L 6
Ciwaruga, Bandung
West Bandung Regency