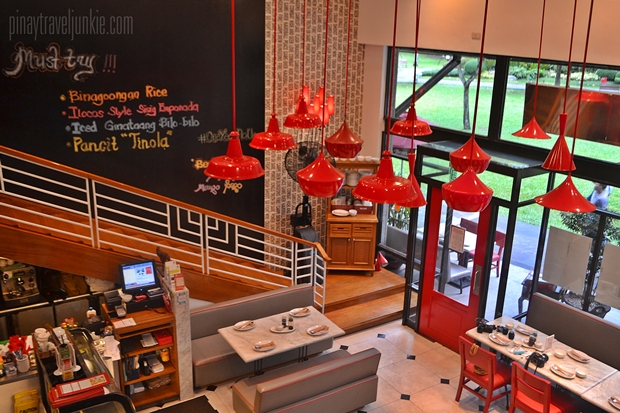 I am currently sulking in my Australian woman cave because my shire's summer has decided to act like me during that time of the month: Intensely moody. Don't get me wrong, I love bed weather days. What I don't like is having the craving for Filipino food, especially when I'm 6,000+ kilometers away from home and 120 kilometers from the nearest Filipino store/restaurant.
Simple Lang at Ayala Triangle Gardens.
And so writing this post about a Filipino restaurant called Simplé Lang is a bit of a torture, but I reckon timely. Because yah know, when I'm not stuffing Pinoy food in my mouth, I'm talking bout it! Simplé Lang is another baby under the umbrella of Raintree Restaurants (same group who created Museum Cafe, Kabila Filipino Bistro, Saboten and others). Simplé Lang (transliterates to "just/plain simple") serves modernized local faves without the fancy schmancy fusion stuff. Good food simplified, the resto says. Okay, there are teensy tweaks here and there, but the taste is definitely familiar. Just like how momma makes it. Or someone else's momma.
The interiors: Casual, bright and a tad conyo-quirky.
#Tusoktusok (yes it comes with a hashtag). Fishballs, kikiam, chicken skin, crispy pork tenga (ear) and squid balls with sweet spicy dip. Filipino street food conyo-fied. As conyo as the texts on the glass windows: "I'm so like gutom na!" and "Simple and yet sooo arte!".
Fresh lumpia rolls (P95). Muscovado sauce, garlic and sesame peanut sprinkle.

I can actually eat one roll as a main meal. The sauce is the hero of this dish, and it did taste like my mum's. Except this sauce is made with muscovado which gave the flavor of the sauce more depth.
Ilocos Style Sisig Empanada (P175). Papaya, salted egg and sukang Ilocos (Iloko). Far less oily than some empanadas I had in Ilocos. Tasty filling, and the vinegar balances the saltiness of the egg.
Pansit Tinola (P195). Hainanese style chicken on noodles with fried sili leaves. The chicken was so tender, and the noodles did taste like it was blanched in tinola broth. My fave among all the dishes we had that day.
Totoong Tokwa't Baboy (P195). Pork and fried tofu in soy sauce and vinegar, sprinkled with spring onions. As simple and as good as it gets. Please pass the beer.
Simpleng Arroz Caldo (P195). This one's far from being simple though. Spicy dilis, kimchi, tofu, bicho, crispy chili garlic, calamansi. The mishmash actually works!
Sinigang na Crispy Bagnet sa Watermelon (P395). You've prolly had this before in some other resto. If not, I can imagine how baffled you are. This dish is hearty and amazingly refreshing. I like my sinigang insanely sour, and this one's not it. This is for you guys who go for the sweet-sour balance.
Iskrambol. A posh version of the Filipino street drink/snack/dessert ice scramble. Mixed(scrambled) flavoured condensed or evap milk with shaved ice and topped with chocolate syrup, marshmallows and powdered milk. Yummo.
Ginataang Bilo-bilo. Coloured glutinous rice balls because why the heck not. Not overly sweet and perfectly sized for sharing with another if eaten as dessert. Marvelously capped our merienda cena.
So… Good food simplified? Nah. Not plain simple. But in a good way.
Simplé Lang
Ayala Triangle Park, Paseo De Roxas St
Salcedo Village, Makati