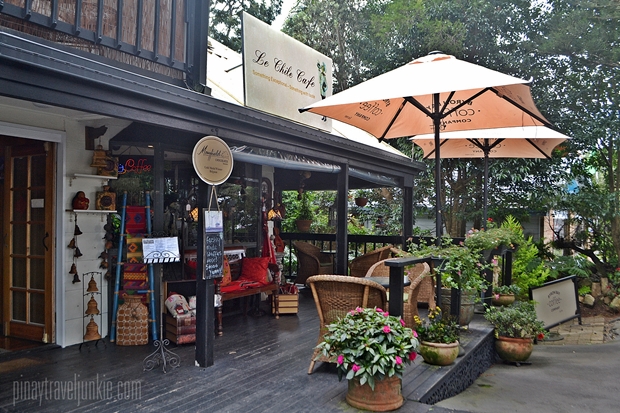 "What the heck did I just eat I suddenly got nostalgia!".
And it wasn't just Le Chile Cafe's food that tugged my mind back to South America. The festive hues on the decor, the lethargic ambiance, and the faint Spanish music piped in the deck… All made me terribly miss my fave continent on earth (don't tell my folks back home!).
South American pottery, textiles adorn the racks.
With Mount Tamborine Winery across the road and cafes serving organic/gluten-free goods, Le Chile Cafe seemed a bit of an oddball to me. Not bizarre in a way like German Cuckoo Clock Nest bizarre, it's just a little unexpected. And unexpected in a good way. Especially cause where we're currently settled a hundred-fifty kilometers away, the closest we could get to Latin American food is eating "Mexican beans" from a can.
Some items on display may be purchased.
It was about past one in the arvo when we arrived and we were able to snatch a table straight away. The cleaning up of the table wasn't as quick though. The two waitresses were scuttling here and there, a tad flustered. We grabbed our menus from the counter and selected heavy meals to last us throughout the impending Curtis Falls (Joalah) hike.
Deck overlooking the bush.
The hubby ordered their Spanish Tortilla while I asked for the Estofado. Meals were served in about twenty minutes. Once we started eating, our friend (who's on a gluten-free diet) took out her packed lunch and the staff didn't mind.
Spanish Tortilla ($15).
The hubby's order, Spanish Tortilla. Free range eggs combined with exotic spices, potato, mushroom, ontion, tomato, fresh parsley, red capsicum topped with cheese, sliced chorizo and cherry tomato. I'd like to get to recipe for this! Moist and tasty. The chorizo's so good, I wish there were more slices.
Estofado ($17).
My order, the Estofado. South American Style spare rib stew (tomatoes, carrots, mushrooms, leeks, peas, red onion, capsicum and spices) served with rice and potatoes. Reminds me of the Filipino caldereta, which is obviously Spanish influenced as well. The meat was very tender, and sauce did taste like it was stewed for ages. Portion was tinier than expected. It was filling, yes. I reckon I simply wanted more.
Baby Chino for little Luna ($3).
Le Chile Cafe serves Byron Bay coffee. Didn't get to try any though, ordered Chai Latte ($6) which I find too pricey as this didn't come in a pot but a tall glass. We also ordered organic Earl Grey tea ($4). Our daughter, Luna, meanwhile enjoyed her Baby Chino.
Because we were to hike after our late lunch, we passed up on desserts. Le Chile Cafe serves Lick Gourmet Ice Cream and award-winning Mayfield Chocolates. They also got a good orange cake, so make sure to try any of these. I know we will next time we're up in Tamborine Mountain.
Le Chile Cafe
147 Long Rd (Gallery Walk)
Eagle Heights
Tamborine Mountain